4:00 P.M.
November 4, 2004
Women of the Arts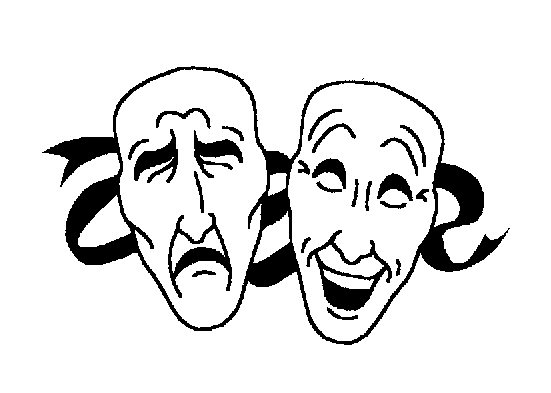 by Richard L. Wilkerson
Assembly Room, A. K. Smiley Public Library
---
About the author.........
Richard Wilkerson has served as vice-president of the Loren L. Zachary Society for The Performing Arts, and has provided invaluable service to this organization since its inception. Born in Long Beach, California, he served in the United States Navy in the Phillippines during WWII. Following his military service, he graduated from the University of Redlands, Redlands, California, and became a prominent teacher of English. Richard has given assistance to many non-profit boards both in his profession and in the community. He has received many high honors for his achievements.
His love of opera began in the early 40s listening to the Metropolitan Opera Broadcasts. He has been an inspiration to every singer he has worked with at the Zachary Society events.
Richard and his wife, Ruth, have been married 53 years. They have two sons, and five grandchildren.
---
HELENA G. ALLEN (1917 - 2003)

Helena was born on February 26, 1917, in Prescott, Arizona. Her father was a miner and her mother had been an actress and model. She was their only child and spoke only Swedish before she started school.
She entered the University of California at Berkeley in 1935 and completed her bachelor's degree there as well as doing graduate work there. In 1944, she married pilot Jimmy Ahlred, who was killed three months later in England during World War II.
In 1945, she became director of a local USO organization in Louisiana. There she met a friend, Paul F. Allen, who was stationed there and whom she had known when they both lived at the International House at UC Berkeley.
They were married in February 1946, and she taught in the English department at UC Berkeley where Paul finished his graduate work there.
In January 1950, moving to Redlands, they purchased and moved into a large Victorian house, which was their home for many years.
During Helen's years in Redlands she taught English at the University of Redlands, San Bernardino Valley College, and California Baptist College in Riverside. She also taught extension courses for the University of California's Los Angeles and Riverside campuses.
From 1955 to 1960 she wrote several college English textbooks, published by Wm. C. Brown, Dubuque, Iowa. For the textbooks she was told to use the name HG Allen because a woman's name was not acceptable as a man's for a textbook author. With the name change, her textbooks were used throughout the nation.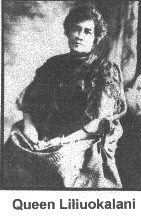 While on vacation in Hawaii in 1969, she met Lydia K. Aholo, the 92-year-old foster daughter of the last queen of Hawaii, Queen Liliuokalani, and was fascinated with her firsthand account of the overthrow of the queen. Helena began ten years of scholarly research in Hawaii, the United States, and England that resulted in her1983 book Betrayal of Liliuokalani, Last Queen of Hawaii.
Soon after that she wrote My Husband's Wife and Our House, an anecdotal and humorous book. Helena said she needed to write this book to release her from the emotional energies connected to the events of Queen Liliuokalani's last years.

This book was followed by Sanford Ballard Dole, Hawaii's Only President. This book dealt with the "other side of the coin," the exercising of the controlling political power of the United States in Hawaii.
Helena's husband, a professor emeritus of history at San Bernardino Valley College, died in 1994, and she then moved to Plymouth Village, a retirement community in Redlands.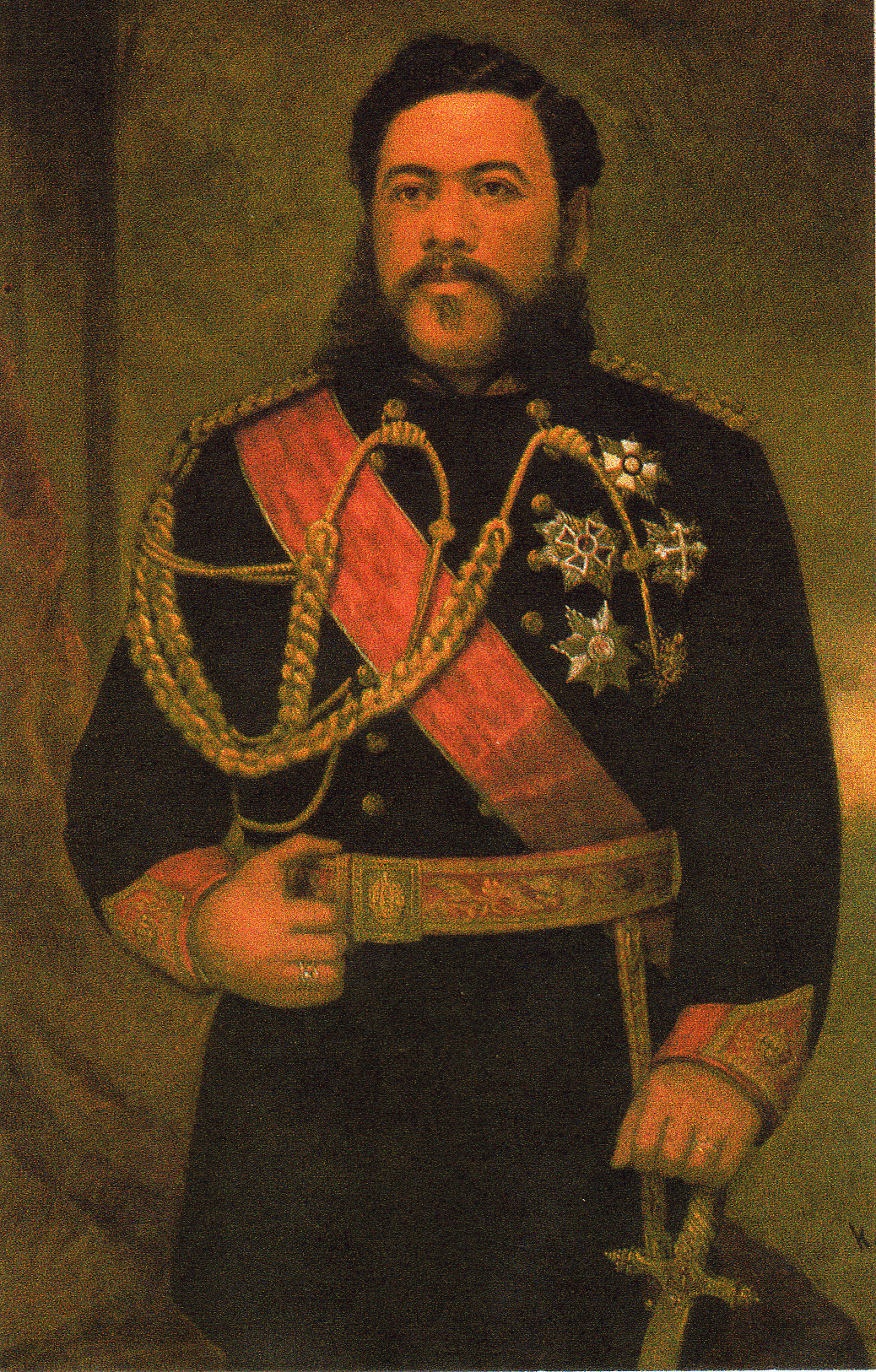 After moving to Plymouth Village, she completed her third Hawaiian book, King Kalakaua, a Renaissance Man, Hawaii's Last King. This book spotlights some crucial years of the Hawaiian monarchy – the period of Kalakaua's reign preceding the overthrow of the monarchy by the United States Government.
At the time of her death, she was working on a book about the decline in public education, a passionate subject for her.
Mrs. Allen was also co-author of Forty Days in the Wilderness and Revelation of St. John the Divine, and had contributed to San Bernardino County Museum Commemorative Edition, a collection of 70 articles by 50 county-wide historians. In addition to her books, she had written more than 500 articles and short stories for magazines and had written radio scripts for ABC Women's Forum, serving also as a commentator for that program. She also involved herself with some community activities, and at one time served as young adult director of the YMCA in San Bernardino
She had been a literary agent, West Coast editor of International House Quarterly and editor of many book manuscripts in education, medicine, history, law, politics, and metaphysics-mysticism, as well as editor and publisher of Allen-Greendale Publishers.
She was listed in Who's Who in American Women, Who's Who in British and American Women, National Public Relations Guide, National Blue Book of Writers, and Foremost women in Communications.
Helena was a member of the International Platform Association, was a frequent lecturer, appearing also on television and radio in Hawaii and on the mainland. She was a member of the Redlands Contemporary Club, American Association of University Women, Pen Women, the University of Redlands Town & Gown, and The Ladies of Camelot, the women's auxiliary of the Knights of the Round Table International. She had traveled extensively, including all 50 states, Canada, Mexico, many European countries, and Asia. Helena died August 24, 2003 in Redlands, California.
Bidu Sayao (1902-1999)

"The very special gifts of Bidú Sayão singled her out and made her one of a kind: the fragility of her instrument, crystal clear, which cut like a diamond across a large orchestra; the exquisite delicacy of her phrasing; her innate sense of the stage, which created a thousand and one nuances; and a feminine pertness that was totally irresistible."
——Lanfranco Rasponi
Bidú Sayão was born in Brazil. She wanted to be an actress, but, she once related, "in Rio de Janeiro at that time going on the stage was absolutely out of the question for a girl born in a respectable family," so she began vocal study instead. She studied with Elena Teodorini, following the Rumanian soprano when she returned to Europe. Sayão made a few concert appearances in Rumania, then went to study with Jean de Reszke, who helped her refine her technique and taught her to sing the text.
Sayão had this to say about her studies:
De Reszke had an extraordinary ability to evaluate the text, integrating it to the music until they became one. This was to be of enormous help to me when I took on many of the Debussy scores. . . . [The] dazzling mad scene [from Hamlet by Thomas] which became a must on my concert programs, became a real part of me, so many were the times he made me go over it, concentrating on the words' essence and producing sounds that would enhance them.
After de Reszke's death Sayão proceeded to Rome and auditioned for Emma Carelli, who after a successful singing career was running the Teatro Costanzi (later Teatro Reale), and who had a knack for discovering voices. Carelli sent her to Luigi Ricci to learn repertoire. She made her debut as Rosina in Il Barbiere di Siviglia in Rome, which remained her base for several years.
She appeared in Genoa, San Remo, the Colón, and Rio's Municipal. She sang her first Lakmé at the Opéra Comique and her first Roméo et Juliette at the Opéra with Georges Thill. She also performed with him in Brazil's national opera, Guarany, in Rio and São Paulo. Sayão remarked that Thill "was the last of the great French tenors — another tradition gone down the drain."
In 1937 she enjoyed a tremendous success as Massenet's Manon on her debut at the Metropolitan, initiating a New York career that lasted until 1951, in the lyric and coloratura soprano roles such as Gila, Rosina, Gounod's Juliet, Millicent, Violetta, Mimi, Norina, Adina, Zerlina and, perhaps most memorably, Susanna. She exuded feminine charm, warmth and refinement on stage, singing with pure, silvery tone and enlivening soubrette roles without recourse to soubrette mannerisms. She retired from the stage in 1958. (paragraph from Martin Berheimer)
Perhaps her most famous recording is the Bachianas No. 5 by Heitor Villa-Lobos made in 1945. The piece was originally for violin and eight cellos, but Sayão suggested to Villa-Lobos that she sing the violin part, without words, and with humming. Though he was reluctant, he agreed to try it, and the crew assembled at a recording studio. According to Sayão, she and the cellos did the piece once and Villa-Lobos decided the result did not require a second take.
Bidú Sayão died in 1999. The following is a tribute I came across. (I think this was mechanically translated, so I edited for clarity; some of the phrases defy interpretation, so I have left them as I found them):
Writer Máário de Andrade, who nicknamed Bidú Sayão "The Nightingale," painted her in poetic colors: "She has an admirable voice with an impregnating allure. She proves that a bird's soul can escalate in passion."
Silenced Nightingale
Brazilian nightingale Bidú Sayão is quiet now. She flew away March 13, at age 96, after fighting pneumonia in Penobscot Bay Medical Center in Rockport, Maine, USA. She lived in Lincolnville, Maine. Sayão had moved to the area, bitter with Brazil and the treatment Brazilians gave her. She asked to be cremated and her ashes spread in Lincolnville Bay just in front of her house.
The soprano, admired by Italian maestro Arturo Toscanini (1867-1957) who called her la piccola brasiliana, was one of the best prima donnas the world has ever known. Her first performance in the US happened in 1936. From the late 1930s through the 40s Sayão was one of the most popular stars of the New York Metropolitan Opera. She was decorated by the U.S. government for her performances for soldiers during World War II.
She was born Balduína de Oliveira Sayão in the Rio beachside neighborhood of Botafogo on May 11, 1902. Balduína was named after her grandmother and also adopted the Bidu nickname that her mother had. The artist was only five when her father died. Her mother Maria José Sayão would be her biggest inspiration and her only monetary source during the beginning of her career. She later complained that no school, company, or government department would help her when she was starting. She carried some resentment for Brazil all her life, but at the same time preserved her Brazilian identity, refusing for example to seek American citizenship.
She was a mere 18 when she first appeared at the Teatro Municipal in Rio de Janeiro interpreting Gaetano Donizetti''s opera Lucia di Lammermoor. Her work received rave reviews. After that she went to Europe and in 1922 was admitted in Nice, France, to the school of renowned Polish tenor Jean de Reszke, with whom she learned the delicate way of singing that would become her trademark. After starring as Rosina in Rossini's Il Barbiere di Siviglia in Brazil, in 1926, she was invited to Rome and signed a contract with the Constanzi Theater. Soon she went to the Paris Opéra and then to La Scala.
Sayão's American career began in 1937 following a successful two-year tour in Brazil during 1935 and 1936. In New York she interpreted 12 roles in 13 seasons, including among others Violetta, Rosina, Gilda and Mimi. She was petite, not pretty and with a little voice, but she won the hearts of her public by the intensity of the emotions with which she interpreted her roles.
Her last presentation on a stage was in 1954. Four years later, however, at the request of friend Villa-Lobos she agreed to record Floresta Amazônica, conducted by the famous composer himself. After that she retired.
The musical piece that became her biggest success was her role in Brazilian composer Villa-Lobos''s Bachianas No. 5, which was recorded in 1945. Sayão was Villa-Lobos's favorite interpreter. She became also famous for playing Zerlina in Mozart's Don Giovanni.
Her last trip to Brazil was in 1995 when she was paid a tribute by Escola de Samba Beija-Flor, which chose her story to present during the Carnival Parade. She participated parading on one of the floats. The singer had plans to return to Brazil for a last time on her 100th birthday in 2002 and had invited her long-time manager and friend Hazel Eaton to go with her on this trip. In an interview with the daily O Estado de S. Paulo, Eaton revealed Sayão was very happy with the recent release by Sony of her old recordings. She felt relieved for not having been forgotten by people after so many years, something that tormented her during the last few years. The Bachianas was still the rage in the late 1960s.
In her last performance at the Rio Municipal Theater in 1937, she was intensely booed. It's been said that the jeering was orchestrated by jealous Gabriela Besanzoni Lage, a famous Carmen who couldn't accept being outdone by the diminutive Bidú. The singer didn't go back for tours in Brazil any more and when her singing career ended she gave up living in Brazil, buying her house in Maine.
Married twice, first with manager Walter Mocchi, 40 years her senior and then in 1935 to famous Italian baritone Giuseppe Danise, who died in 1963, she preferred to spend her time with her cats and playing cards with friends.
Schuyler Chapin, Commissioner of the Department of Cultural Affairs, NYC and former general manager of the Metropolitan Opera recalls "the petite and enchanting Bidú Sayão who, during her career days held audiences in the palm of her hand, whether on the opera stage, the concert hall, a living room, or just in conversation. . . . At the Met, her clear, bright soprano and winning ways as an actress caught my imagination when I was a teenager and first heard her in 1937 as Mimi. I fell in love, but ran into headlong competition from my father, who'd lost his heart earlier that same year when she'd made her debut as Manon, the only opera he ever really liked. I fantasized about this elusive butterfly for years, enjoying her in a variety of roles: Rosina, Zerlina, Norina, Violetta, Juliet, Melisande, Manon, Manon Lescaut, Susanna, and especially her incomparable Mimi. During the fifteen seasons she sang at the Met she was, hands down, one of the public favorites. When, during my time as general manager, we finally met, I was totally unprepared for her wry humor and saucy conversation. She is still an extremely attractive woman who flirts outrageously and makes the man she's with feel as if he's the only person in the world. Very, very good these days for the somewhat squashed male ego."
SONGS RECORDED BY BIDU SAYAO
Debussy La Damoiselle élue
Mozart
Le nozze di Figaro Non so piu
Voi che sapele
Porgi Amor
Deh vieni, mon tardar
Don Giovanni Vedrai, carino
Batti, batti
Bellini
La sonnambula Ah, non credea mirarti
Verdi
La traviata Ah, for_ è lui....Sempre libera
Puccini
La boheme Mi chiamano Mimi
Quando m´en vo soletta
Addio, senza rancor
Madama Butterfly Un bel di, verdremo

Gianni Schicchi O mio babbino caro
Leoncavallo
I Pagliacci Ballatella – Qual fiamma avea nel guardo
JARMILA NOVOTNÁ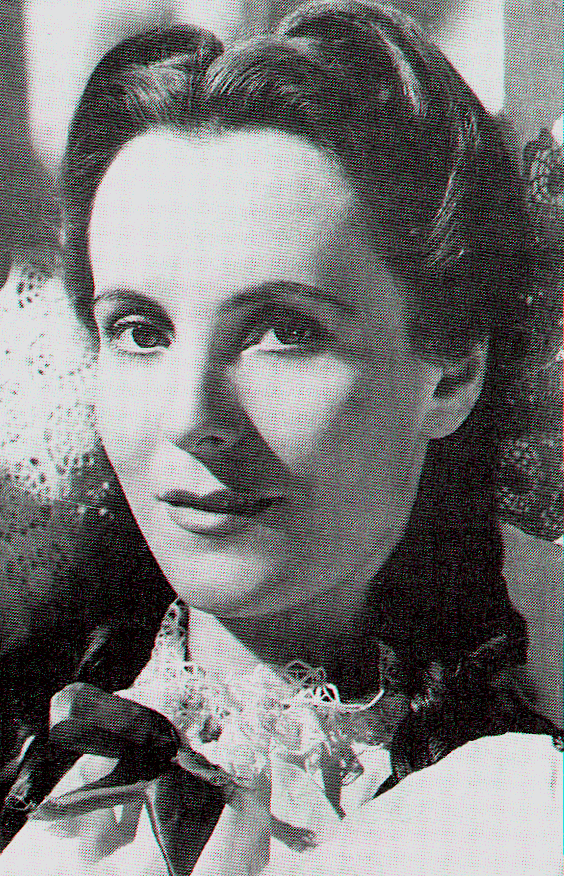 Jarmila Novotná (1907 - 1994) began her operatic career as Violette in Prague in 1926. She reached stardom in Verona, Berlin, and Vienna before she was 25 and in Rome, Milan, Paris, Florence and Salzburg before she was 30. In 1940 she debuted at the Met, as Mimi, and this became her artistic home until her retirement in 1957. At the Met she sang 205 performances of 14 roles, most memorably Donna Elvira, Cherubino, Octavian, Pamina and Orlofsky. She starred in German, English and American films, both musicals and dramas, and created the title role in Lehár's Giuditta, at the Vienna State Opera, in 1934.
LICIA ALBENESE
LICIA ALBANESE was born in Bari, Italy. She became one of the finest singing actresses on the international stage. She appeared at the Metropolitan Opera for 26 seasons, performing a total of 427 performances of 17 roles in 16 operas. At the San Francisco Opera she sang for 20 seasons, singing more than 120 performances of 22 roles in 20 operas! Certainly a prodigious and a remarkable contribution to the world of music.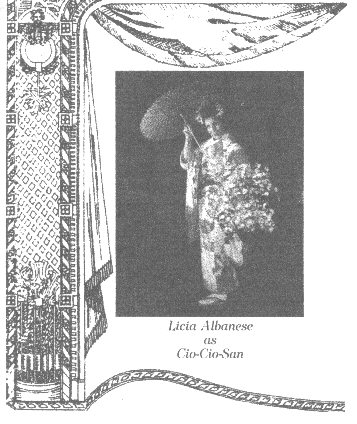 Madame Albanese is the Chairman of the Board of the Licia Albanese-Puccini Foundation, which gives assistance to young opera singers. She also continues to direct full operas, opera scenes, and Master Classes. She has been one of the major judges for the Zachary Opera Competition, serving in that capacity for 19 years. Also, she has been a major financial contributor to this competition.
NEDRA ZACHARY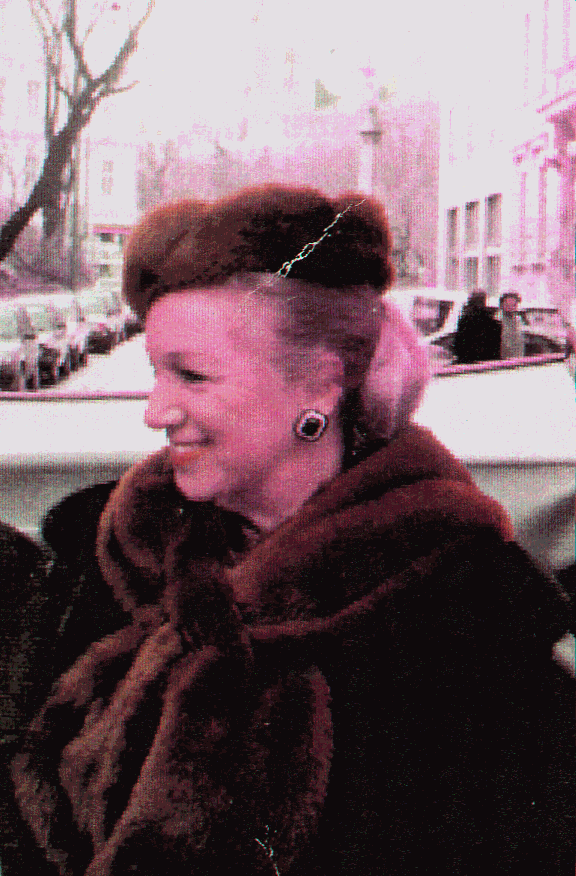 Nedra Zachary was born in Beverly Hills, California on December 30, 1938. She began studying piano at the age of four, later studying ballet, which was followed by a career as a ballet dancer. Upon graduation from high school she entered the University of Southern California. She graduated from USC's College of Letters, Arts, and Sciences in 1960, receiving a Bachelors Degree of Fine Arts.
Nedra has traveled extensively, and she has spent a major part of her travel in Austria and Germany. She married Dr. Loren L. Zachary on February 23, 1975, but prior to this, in 1972, they launched the philanthropic venture which is known world-wide today as "The Loren L. Zachary Society for the Performing Arts." The purpose of this remarkable non-profit organization is to sponsor national vocal competitions for young opera singers. Many successful opera singers today are the past recipients of grants given to them as the result of their being winners in these competitions.
A stellar honor for Nedra was receiving the Decoration of Merit in Gold of the Republic of Austria.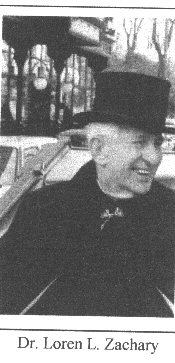 For several years, Nedra's cousin, Richard L. Wilkerson, assisted her and her husband with the preliminary auditions that were held in New York and California, and, also, with the final competitions which were held in Beverly Hills, California.
After Dr. Zachary's death, Nedra continues to take on the responsibility of organizing and directing these competitions, so that young singers continue to be supported in realizing their dreams. She continues to sponsor the annual "Viennese Luncheon," a fund-raising activity of the Zachary Society. She is also a member of the Board of Directors of the Los Angeles Concert Opera Association, and has marked her 21st year as a travel agent with Senator Travel.
Nedra lives in Beverly Hills, California. She has a daughter Melanie, and two grandchildren, Britanny and Harrison.
BIBLIOGRAPHY
The Betrayal of Liliuokalani, 1838-1917 Helena G. Allen
Sanford Ballard Dole, Hawaii's Only President Helena G. Allen
Kalakaua, Renaissance King, 1838-1926 Helena G. Allen
Legends of Hawaii Padraic Colum
The Legends and Myths of Hawaii His Majesty, Kalakua
Hawaii's Last Queen, The American Experience Anna Deavers Smith, Narrator
(Tape)
Women of Old Hawaii Maxine Mrantz
Ancient Hawaiian Civilization Series of lectures delivered at the Kamehameha School
The Illustrated Atlas of Hawaii O. H. Bushnell
Saturday Afternoons at The Old Met Paul Jackson
Hawaiian Times Genie Pitchford
Hawaii Art of The State Harry Abrams
Vagabonds House Guest Book Don Blanding
Hawaii Hans Johannes Hoefer
Hawaii, A Guide To All The Islands
The Maverick Guide Robert W.Bone
All About Hawaii
Jack London's Tales of Hawaii Miriam Rappolt
Hawaii Nei Ruth M. Tabrah
Anatomy of Hawaii Frederick Simich, Jr.
Fodor's Hawaii Fodor's
Mark Twain's Letters from Hawaii A. Grove Day
Mark Twain in Hawaii, Roughing It In The Sandwich Islands Mark Twain
Fodor's Hawaii 1985
Hawaii James. A. Michener
These Islands of Hawaii Kenneth B. Carney
Instant Hawaiian Scott Burigton
The New Milton Cross Complete Stories of the Great Operas Karo Kohrs
---