MEETING # 1626
4:00 P.M.
DECEMBER 16, 1999
---
First Ladies &
the Presidents They Served
Part 2
by Richard L. Wilkerson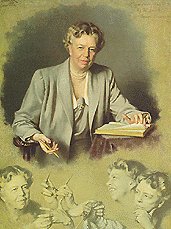 Eleanor Roosevelt
Assembly Room, A. K. Smiley Public Library
---
SUMMARY
Americans have been fascinated by the first ladies since the time we became a nation. The First Family is our democratic version of royalty. Our first ladies have represented the standards of womanhood of their time, standards that have changed many times during the course of our history. Reading about their remarkable lives is like looking at a display of our changing images of men and women, homes and families, society and culture. But being a national image is not easy.
---
BACKGROUND OF AUTHOR
I was born in 1926 and raised in Long Beach, California. I volunteered for service in the United States Navy in World War II. I received TUBA and MA in American history at the University of Redlands. Since that time, I have studied in nine other colleges and universities. I have taught from elementary through graduate level and have served in libraries, junior high through universities. My final years in education was serving as director of a Leaming Center in a community college. I was elected to two school districts board of trustees. I directed theater for twenty three years and currently work with three opera companies.

---
INTRODUCTION
The First Lady is in the spotlight because her husband holds the highest elected political office in the land. In the twentieth century, she has often had to work hard to help him get elected. Once he is in office, everything she does reflects on his popularity with the voters. If she is well liked, has an appealing personality, and is respected by the press - it makes him a more successful president. (Ironically, until 1920, women could not vote in national elections, and during much of the nineteenth century they were discouraged from being involved in politics at all.) Having to live up to the expectations of others, having to fulfill their ideal image of the perfect woman, has been a challenging job, and a job for which the First Lady does not get paid. Every First Lady has responded to these pressures in her own way. Some First Ladies saw their role in the White House as a way to continue the supportive role they played in their marriages. Others joined with their husbands in the political issues of their times. Others took on social causes. Whatever decisions they made about their roles as First Ladies, their stories are as varied and interesting as is our nation's history.

---
First Ladies & the Presidents They Served, Part 2
Part III

A new phase in the American Presidency began. The country re-unified itself, while the presidency faced its first impeachment. Governmental graft and corruption became quite apparent, American business and industry grew, and after seeing the century turn, we experienced another presidential assassination.
1865 - 1901
ELIZA JOHNSON
Andrew Johnson Administration 1865-1869
Eliza Johnson taught her husband writing and speaking skills essential to his career. Andrew Johnson did not attend a single day of school. He did teach himself to read. How many public appearances did First Lady Eliza make during her almost four years in the White House? Only two, in 1866 and 1867. She married Johnson when she was 16 years old, a younger age than any other First Lady. This was a definite struggle for her, because she was so immature.
The House of Representatives resolved that the President be impeached for high crimes and misdemeanors. The Senate did not convict. When his term was up, he was not re-elected and moved back home in disgrace.
JULIA GRANT
Ulysses Grant Administration 1869-1877
Julia Grant was her husband's personal and political partner, but she preferred the home life. She was the first First Lady to issue press releases. People criticized her physical appearance because she was cross-eyed. Grant, however, declared that he loved her eyes exactly as they were. She lavishly entertained, usually organizing and serving twenty-nine course dinners.
On May 17, 1877, President Grant, going "as a sovereign" with his family and a party of friends, went on a major tour of Europe and environs. They visited England, Belgium, Germany, Switzerland, Scotland, France, Italy, Greece, Holland, Norway, Sweden, Russia, Spain, India, China, Japan, Egypt and the Holy Land. Here, as elsewhere, King and populace gave welcome. Mrs. Grant enjoyed this lengthy tour. Grant thought about running for a third term, but since his administration was marked by major scandals, he decided not to seek a third term.
LUCY HAYES
Rutherford B. Hayes Administration 1877-1881
Lucy Hayes was the first college graduate to serve as First Lady, and was descended from seven veterans of the American Revolution. She was the first Presidential wife to use the term "First Lady." She had the Annual Easter Egg Hunt moved from the Capitol grounds to the White House lawn. The Temperance Crusade swept over twenty-three states, resulting in National Prohibition. Lucy was an advocate of temperance, and she banned all alcoholic beverages at all state functions. For her efforts, the Women's Christian Temperance Union commissioned a full-length portrait of her, which now hangs in the White House. Also, she was a vigorous opponent of slavery.

She was considered a help-mate in word and deed, and won world-wide praise for herself and for the help she gave her husband. She took an active interest in state and local charities, in her church and in the community about her. This brought her a harvest of confidence and goodwill, as well as for the President. When her husband served in the Army, she stayed with him a good portion of that time. She was called the "Mother" of his regiment, and this also won him much good influence.
LUCRETIA GARFIELD
James Garfield Administration 1881-1881
Before becoming the First Lady, Lucretia taught school. She was known for her keen intellect and appetite for knowledge. Lucretia supported her husband's efforts to fight government corruption, especially in the New York Customs office and the National Post Office. She planned many cultural programs and the restoration of the White House, but these activities were cut short by the President's assassination. During Garfield's term, she discovered that he was having a love affair. He apologized and she forgave him.
ELLEN ARTHUR
Chester Arthur Administration 1881-1885
Ellen Arthur never served as a First Lady because she died before her husband became President. She privately sympathized with the Confederacy, since many of her Virginia relatives were fighting for that cause. No doubt, being First Lady would have imposed a great stress on her.
FRANCES CLEVELAND
Grover Cleveland Administration 1885-1889 & 1893-1897
Frances Cleveland was a beautiful woman and was the youngest First Lady. Grover and Frances were married while he was President. At the wedding reception, telegrams from Queen Victoria and other notables were read.
The press bedeviled their every movement while in the White House, and for years afterward, using spyglasses, bribery, and their imaginations in creating their tales. Without Frances' permission, her likeness was used on commercial products of every sort. Gawking crowds shoved to see her everywhere she went. The Cleveland children had to be protected from aggressive admirers. Mrs. Cleveland won public adoration on an unprecedented scale. She shook hands with thousands of women of all classes and ethnic backgrounds. She worked diligently to further women's education. She was the most popular woman ever to serve as the nation's hostess.
CAROLINE HARRISON
Benjamin Harrison Administration 1889-1893
Mrs. Harrison was the first First Lady to oversee large projects, such as the complete overhaul of the White House. This project took two years. She helped found and supported the DAR and the Women's Medical Fund of John Hopkins School of Medicine. For this, she was honored with a portrait. She was also the first "First Lady" to deliver her own prepared speech.
During Harrison's administration, he allowed American business interests to do whatever they chose to do, so the problems of farmers, laborers, and the millions of immigrants streaming into this country were of no interest to those in power. American businessmen cleverly organized things to suit themselves without much input from the President.
Electricity was first installed in the White House during her husband's administration. She was fearful of touching the switches and sometimes they would not turn off the lights.
IDA SAXTON McKINLEY
William McKinley Administration 1897-1901
Ida McKinley mystified her friends by her strange behavior. Once a beautiful and vivacious lady, after her husband became President she became an invalid, almost a parasite on her husband. McKinley's assassination, tragic though it was, appeared to give her the strength to live slightly more independently than when he was attending to her every whim. While McKinley's cabinet discussed weighty matters of international import, the President was often called to his wife's side to calm her tantrums or to bring her a needed pen or a book. The White House staff carried out its duties without any guidance from her, since she refused to allow anyone else to act as hostess. Each time she suffered a seizure, McKinley covered her face with a handkerchief to reduce her embarrassment. He took great care to accommodate her condition. In a break with tradition, the President insisted that his wife be seated next to him at state dinners rather than at the other end of the table. McKinley's devotion and loving attention to her was the talk of the Capitol. Mark Hanna remarked: "President McKinley has made it pretty hard for the rest of us husbands here in Washington."
Part IV
The president and the nation are youthful and full of vigor, but thirty years later that will not be the case. Those in office started our national park system, supported our efforts to become a world power, faced a world war, saw us return to isolationism, and governed while the nation entered a severe economic depression.
1901 - 1933
EDITH ROOSEVELT
Theodore Roosevelt Administration 1901-1909
Mrs. Roosevelt approved plans for a complete remodeling of the White House, including an entryway corridor which displayed the likenesses of all the First Ladies. This project cost $475,000. Her husband respected her strengths, and, apparently, she was the only person who could control him.
President Roosevelt began a new phase in the American Presidency, saying "speak softly but carry a big stick." The match between the mood of the nation and the new President was perfect. It was a time of dramatic social and economic ferment. Changes came about which demanded an end to capitalistic abuses and to the plundering of the nation's ecological resources. A number of things needed to be taken care of: illegal trusts, the rise of the United Mine Workers, the "Square Deal," conservation, doubling the number of National Parks, and the building of the Panama Canal.
Although "Teddy" Roosevelt invited eminent black educator Booker T. Washington to dine at the White House, she excluded African American women from her events.
HELEN TAFT
William Howard Taft Administration 1909-1913
Helen Taft actively aided her husband's career. On March 27, 1912, she arranged for the planting of 3,000 cherry trees; a gift from Japan. She was the first First Lady to see her own book published. She helped her husband grow to be an effective President. She was the first presidential wife to ride with her husband in the same carriage back to the White House after his inauguration. She organized their silver wedding anniversary party, which was more glittering than all other White House festivities. Eight thousand guests attended this gala on June 19, 1911.
Taft sought the Presidency primarily to please members of his family and later claimed, "I don't remember that I ever was President." He was not equal to the many national problems that faced him, many which were well-beyond his political abilities. However, he did show some success in domestic situations. Two months after entering the White House, Helen Taft suffered a stroke which impaired her speech. She never fully recovered.
Following his presidency, Taft became Chief Justice in the U.S. Supreme Court, serving from 1913-1921. Helen had worked for this appointment.
ELLEN WILSON & EDITH WILSON
Woodrow Wilson Administration 1913-1921
Ellen Louise Axon married Woodrow Wilson June 24, 1855. She drew sketches in a studio located on the third floor of the White House. She donated her work for charity projects. She lobbied Congress to fund slum clearance in the District of Columbia. She was the first wife of a presidential candidate to make an extended campaign tour with her husband. Wilson cheated on Ellen Wilson during their engagement, with a certain Mrs. Peck. He offered to back out of the engagement, but Ellen spurned his offer, replying that she would stand by him not for duty, pity, nor honor, but for love. She was called the "First Woman President." Ellen died of Brights Disease on August 6, 1914 and was buried next to her parents' graves in Rome, Georgia. Wilson was so devastated by her loss that he confided to an aide, E.M. House, that he hoped he would be assassinated.
Edith Bolling Galt, a widow, prided herself on tracing her ancestry to Pocohontas. She was introduced to Wilson at the White House and they were married on December 18, 1915. Some felt he was marrying too soon, so there was much malicious gossip about the President's seeming disrespect for the dead. Some of the rumors were vicious, hinting that he and Mrs. Galt had murdered Ellen Wilson. They both managed to rise above those rumors.
She was the only woman driving her own electric car around town. When America entered the First World War, she stopped all entertaining and began to sew pajamas and shirts for the Washington Red Cross. She also observed the need to cut back during the war, setting an example by participating in the rationing effort. She had sheep grazing on a White House pasture rather than waste manpower clearing the grass. When Wilson suffered a stroke in September, 1919, Edith had to carefully screen all matters of state and make decisions for the bedridden President. However, she made no decisions regarding public affairs.
FLORENCE MABEL KLING DeWOLFE HARDING
Warren G. Harding Administration 1921 - 1923
Florence, known as "Flossie," through hard work and careful management was able to take herself and her gregarious husband to the White House. She was a good hostess and served wine-free state dinners. She did personally pour more potent drinks at private presidential gatherings. When Harding was a senator, he voted for Prohibition. Florence was the first First Lady to insist on a Secret Service man for her own personal protection. The First Lady was noted in Washington for her "little red books" in which she listed her and her husband's enemies.
Florence opened the White House and the surrounding grounds to the public and had many parties, despite her poor health. The Hardings held private poker parties several times a week, serving what was considered at the time contraband alcohol during Prohibition. Some of his appointees were deeply involved in graft and theft. Harding, himself, was not implicated in any of the wrong doing, but since this occurred during his Presidency, it may have contributed to his sudden death. Harding suffered from an heart ailment, but still he began a political tour of Alaska and the West. When he was in his suite at the Palace Hotel in San Francisco, he collapsed and died. Florence was accused of poisoning her husband, but for the record she was devoted to him and defended his honor. She died scarcely more than a year later. Harding's womanizing and fathering a child out of wedlock did not become publicly known until after his death.
GRACE ANNA GOODHUE COOLIDGE
Calvin Coolidge Administration 1923 - 1929
Grace's vivacity and charm proved a perfect complement to Coolidge's reserved manner. She joined the Republican Party just like her husband. She was a popular hostess in Washington. The social highlight of Coolidge's presidency was the party for Charles Lindbergh celebrating his transatlantic flight in 1907. Coolidge helped restore dignity to the presidency, so recently tarnished by the scandals during Harding's term.
Coolidge did not discuss state matters with his wife, and she did not even know that he had decided not to seek reelection in 1928 until he announced it to the press. Her philanthropic contributions included working with the deaf, the Red Cross during the First World War, assisting several civil defense organizations, and encouraging the various scrap drives for the war effort. Mrs. Coolidge accepted her husband's silences, business related absences, and his unwillingness to consult her on anything important. The Coolidge family and their pets were constantly photographed endlessly. One son died tragically after eating infected food. The Coolidges were to see economic disaster strike the nation. Mrs. Coolidge died on July 8, 1957.
LOU HENRY HOOVER
Herbert Hoover Administration 1923 - 1929
Mrs. Hoover was active in public life before her husband entered the White House, She served as a President of the Girl Scouts of America. Her husband never graduated from high school, but entered Stanford University when he was 17 years old. He was the youngest member of the Freshman class of 1891. He graduated in May 1895, receiving a BA in geology.
Lou Hoover decided to become a Quaker, and they both sailed to Tientsin, China to work there. Here they became quite proficient with the Chinese language. They also assisted in aiding the Belgian refugees during the First World War. When Hoover became President, she oversaw another restoration of several rooms in the White House. She and her husband bonded through days of glory and difficulty. She died on January 7, 1944.
Part V, 1933 - today
The Presidents guided America through a world-wide economic depression, a second world war, and the Cold War, in an attempt to bring justice and peace to the world. We would again see presidential scandals and another attempt to impeach the President.
ANNA ELEANOR ROOSEVELT
Franklin D. Roosevelt Administration 1933 - 1945
When Mrs. Roosevelt entered the White House, she proved to be a totally new sort of First Lady. She dreaded the stiff social routine the White House imposed on the President's wives and feared it would stop the welfare activities she considered so important. "I shall not toe the mark," she declared, in a masterpiece of understatement. She was the despair of the Secret Service, but she refused to have a body-guard. Washington had never seen anything quite like her energy. She rose at dawn and did not stop her activities until late at night. Some of her endeavors included horseback riding, and writing a syndicated newspaper column and articles for various magazines. She took voice lessons, spoke over the radio, and lectured – giving the money she earned to charity. All of this was in addition to the formal duties of a First Lady. She received over 300,000 letters during her first year. FDR allowed her to "judge" any of his projects. He also did not try to restrain her, saying, "They all know I can't control you." Eleanor was the first First Lady to take on controversial issues. She advocated for human rights starting in 1939, held her first press conference in 1933, and first traveled by air to a foreign country in 1934.
Soon after her husband's death, she was appointed by President Truman as a delegate to the General Assembly of the United Nations. She served in this capacity during Truman's two terms. She was quoted as saying: "One must never, for whatever reason, turn his back on life."
FDR is still either the best loved and or most hated American President of the 20th century.
ELIZABETH (BESS) TRUMAN
Harry Truman Administration 1953 - 1961
Bess, as she was affectionately known, provided valued advice to her husband. She lobbied for the historical restoration of the White House instead of just replacing it. She also advocated for food conservation and austerities. The Trumans were married for 53 years. Bess detested her years in the White House. She followed Eleanor Roosevelt, which would be daunting for most everyone. Also, she supported her husband during years of tremendous world-wide problems. At 97 she was the longest living First Lady. Harry was loved by most of the American people.
MAMIE GENEVA DOUD EISENHOWER
Dwight Eisenhower Administration 1953 - 1961
Mamie helped found a women's & children's hospital in Panama. She also supported many worthy causes at home. She was a fine lady who did her best to support her husband, her children, and her country.
It was claimed that Ike had an extra-marital affair with an English woman, who was his personal driver while he was stationed in England during the Second World War. At the end of the war he left Europe, never seeing the lady again. He and Mamie were married 53 years.
JACQUELINE LEE BOUVIER KENNEDY
John F. Kennedy Administration 1961 - 1963
JFK had been extremely successful with women and had dated countless beauties before meeting and marrying Jacqueline. After his assassination, a spate of allegations continued that Kennedy routinely cheated on her.
While Jacqueline was in the White House, she was able to direct further historic restoration of the White House's interior and established the White House Association. Jackie, as she was affectionately called by the American public, was idolized around the world for her beauty and her taste in fashions. She gracefully combined privacy and public diplomacy.
LADY BIRD JOHNSON
Lyndon B. Johnson Administration 1963 - 1969
Despite the fact that Lady Bird was asked by her family not to marry into that no-good Johnson family, she and Lyndon were married in 1934. She invested in a radio station, was very active in civic affairs, and later built the family fortune with her television station. She traveled some 200,000 miles promoting a campaign to improve the landscape of America. She spoke out for the Johnson's Administration's war on poverty. She also made goodwill trips to 33 different countries and was active in the Head Start program.
She felt that the primary obligation of a First Lady was to create in the White House "an island of peace" for the President. When it came time for Johnson to run for the presidency in 1964, she urged him not to seek it, but he chose to run anyhow.....and won. During LBJ's administration America was involved in the Viet Nam War, which was difficult for both Lyndon and Lady Bird, to say nothing of the country.
THELMA CATHERINE (PAT) RYAN NIXON
Richard Nixon Administration 1969 - 1974
Pat supported educational and self-help programs, traveling widely on public missions. She supported her husband throughout his political career, including those times of great distress and crisis.
Although she presented a serene public facade. Pat felt things deeply and was able to preserve a strong sense of personal balance and compassion. When Nixon went to China in February 1972, he was the first President to visit a nation not recognized by the U.S. Pat accompanied him on this trip. In 1972, She was also the first incumbent First Lady to travel to Africa and the first to call publicly for the appointment of a woman to the U.S. Supreme Court.
ELIZABETH (BETTY) BLOOMER FORD
Gerald R. Ford Administration 1974 - 1977
Betty, deciding to become a dancer, studied under Martha Graham, who invited her to join her New York Concert Group in 1939. Betty was also a Powers model. She married William C. Warren in 1942, but they divorced amicably in 1947. At the age of 30, on October 15, 1948, she married Gerald Ford. During there marriage, he had a torrid four-year long love affair with a woman named Phyllis Brown.

Betty's greatest contribution to the American public was her publicizing the problem of breast cancer, urging women to help themselves in detecting it early. She, herself, was dealing with breast cancer at that time. Through this action, she gained the admiration of millions. Also, she won praise for speaking freely of her struggle with alcohol and pain-killing drugs. She had used the drugs in seeking relief from an inoperable pinched nerve, becoming dependent upon those drugs. Following her recovery, she established the Betty Ford Clinic.
ROSALYN SMITH CARTER
James ("Jimmy") Earl Carter, Jr. Administration 1977-1981
Jimmy Carter, age 21, married Rosalyn Smith, age 18, in 1946. Rosalyn grew up amid hardship following the death of her father when she was only 13 years old. She worked at a local beauty parlor, and also helped earn extra money by sewing. When she graduated from high school she was her class's valedictorian. Like Eleanor Roosevelt before he, she painstakingly overcame her basic shyness. She was the First lady since Eleanor to testify before Congress, only her causes were mental health programs and the Equal Rights Amendment.
She actively campaigned for her husband. During his administration she was active in several diplomatical missions, and supported programs for the mentally ill and the elderly. After Jimmy left office, they both worked very visibly and successfully for the Habitat for Humanity. Rosalyn's memoirs - First Lady From Plains, published in 1984, was a nation-wide best-seller.
NANCY DAVIS REAGAN
Ronald Reagan Administration 1981 - 1989
Nancy was educated at Girl's Latin School in Chicago. In 1943, she graduated in with a degree in drama from Smith College. Her acting career brought her to summer stock in 1946, and then to performing in eleven films with MGM. In 1951, she met Ronald Reagan and on March 4, 1952, they were married.
As First Lady, she overcame early criticism for spending nearly $1,000,000.00 to remodel the White House's living quarters, plus acquiring a 220 place setting of gilt-edged Lennox china. The Reagan administration, at the same time, was calling for cut-backs in domestic programs. She later emerged as a leader in the national campaign against drug abuse among youth.
She was an independent soul, doing and acting according to her own desires. She even consulted a San Francisco astrologer whenever she felt she needed advice.
BARBARA PIERCE BUSH
George Bush Administration 1989 - 1993
George and Barbara Bush raised six children, moved 29 times, and resided in 17 cities. This moving around was due to his political career. As Reagan's Vice-President, he logged more than 1,000,000 miles of diplomatic travel.
When George became President, Barbara stepped into the life of the First Lady with grace and apparent ease. She helped raise money for the United Negro College Fund, the Leukemia Society, and the March of Dimes. In addition, she was involved with the Literary Volumes of America, and established the Barbara Bush Foundation for Family Literacy. Her book about Millie, their springer spaniel, became a nationwide best seller, and in 1994, she authored her memoirs of her experiences in the White House.
HILLARY RODHAM CLINTON
William Jefferson Clinton Administration 1993 - 2000
Hillary Clinton attended Wellesley College. After graduation she attended Yale University Law School. Here she met, and later married, William Clinton. In 1992, the Clintons were compelled to acknowledge that they had had marital problems, but said that they had worked them out to their mutual satisfaction.
Hillary was the first First Lady to be a lawyer. A well-educated woman of high intelligence and energy, Hillary acts as her husband's closest advisor. During the first years of her husband's presidency, she gained a reputation as the most activist First Lady since Eleanor Roosevelt.

---

BIBLIOGRAPHY

Here Comes Eleanor, a New Biography of Eleanor Roosevelt for Young People; Virginia Veder Westervelt, First Edition, Avisson Press, Inc., Greensboro, North Carolina, 1998.
Great Lives, Great Deeds; The Reader's Digest Assoc., Inc., United States of America, 1964.
The Book of Women's Firsts; Phyllis J. Read and Bernard L. Witlieb, Random House, Inc. New York, 1992.
The White House, An Historic Guide; The White House Historical Assoc., Fourth Edition, Crosset and Dunlap, New York, 1963.
Time 100; Kelly Knauer, Time Books, New York, 1998.
Presidents and First Ladies of the United States; Doranne Jacobson, Todtri Productions, Ltd., New York, 1995.
The American Heritage Dictionary, Second College Edition; Editorial Assistance, Francine D. Fiegelman and Susan E. Sidd, Houghton Mifflin Co., Boston, 1982.

---