MEETING # 1625
4:00 P.M.
December 2, 1999
---
Gus Knight Jr.
Entrepreneur of Bear Valley
And Rogue Sportsman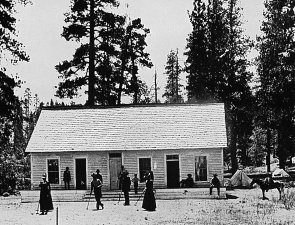 by Harold M. Hill M.D.
Assembly Room, A. K. Smiley Public Library
---
SUMMARY
Gus Knight Jr. was a prominent San Bernardino business man and sportsman who in 1888 built the first and very successful hostelry at the newly created Big Bear Lake in the San Bernardino Mountains.
Gus Knight fed his customers on wild fish and game initially and later engaged in commercial hunting and fishing, often illegally. He was particularly prominent in controlling and exploiting the duck hunting on Baldwin Lake.
Knight was instrumental in developing several access roads from the valley to Bear Lake during the early years. Redlands affluent businessman were also important in the early development of the Bear Valley resort. Duck hunting at Baldwin Lake was very popular with Redlands sportsman in the early in the early decades of this century.
---
Background of the Author
Harold Hill is a third generation Redlander on both sides of his family. His paternal grandparents, Dr. Merrill Washington and Ella Hill, arrived here in 1887 and his maternal grandparents Peter and Elizabeth Arth, arrived here in 1889. He is understandably interested in local history, both human history and natural history.
Dr. Hill is a graduate of Redlands public schools, the University of Redlands, Stanford University for his medical degree and the University of Michigan for medical specialty training. He returned to Redlands to practice with his father and brother, specializing in internal medicine. He practiced here for thirty seven years, retiring in 1984. He is a fourth generation physician, third generation in Redlands. He has two sons living in Redlands and two daughters, one living in Running Springs, California and the other in Ithaca, New York. He and his wife Marjorie regularly attend the First Baptist Church where they are coordinators of the Questers Sunday School Class. Marjorie is prominent in volunteer, civic organizations.
His avocation is natural history, especially ornithology. He has published several papers in this field and on other natural history subjects. He was one of the founders of the San Bernardino Valley Audubon Society chapter, and a lecturer on National Audubon Screen Tours. He has been a Commissioner of the San Bernardino County Museum and is presently a member of the Board of Directors of the Museum Association. He also served on the Foundation Board of Redlands Community Hospital. He has been a member of the Redlands City Parks Commission and the citrus committee that manages the City's groves. He was instrumental in organizing and coordinating the planting of Caroline Park. Other interests have include ranch management in connection with the Stillman Berry Ranch in Montana and management of a hunting club for waterfowl in the San Jacinto Valley. He was named "Redlands' Man of the Year" in 1990.
---
Introduction
This paper should have been presented to Fortnightly 75 years ago, as most of the principal characters would have been well known to the FN members of the time, and the members of 50 to 60 years ago would have remembered many of them to some extent, as I can, though far before my FN years.
However, those present FN members who may be steeped in Redlands history, as Larry Burgess along with his Heritage Room staff, and Tom Atchley will recognize most of the names.
This paper, as some of my previous FN papers, is rather narrowly focused on the wildlife of our valley and its attendant mountains. But, again, because of the paper's local orientation and historical features should have enough of general interest to hold your attention. I trust there will be no more than the traditional 3 or 4 nodding heads, of which mine has been one on occasion.
Acknowledgments
Most of the information about Gus Knight Jr.'s activities in Bear Valley came from the early Redlands' newspapers: Scipio Craig's Citrograph (1887-1908), The Moore Family's Redlands Facts (1892- ), and the Redlands Review (1901-1919). It would have been virtually impossible for me personally to have researched these newspapers for the period between 1887 to 1925, which this paper covers. Fortunately, this has been done by one of our dedicated local historians, Tom Atchley. He created a detailed card file index of the Citrograph from 1897 to 1895, which is in the Heritage Room here in the Smiley Library. Additionally, while researching a proposed chapter on wildlife and hunting for John Robinson's recently published history of our mountains titled "The San Bernardinos", Atchley collected many newspaper references from the Redlands Facts and Redlands Review. These he kindly made available to me and they have been extremely helpful.
Reference volumes that were used include particularly Robinson's "The San Bernardinos" and La Fuzes's "the Saga of the San Bernardinos". Ingersol's "Annals of San Bernardino" supplied the biographical information of the Knight Family.
Information has also been obtained from interviews and conversations with "old time" hunters whom I have known. This includes Leon Atwood, Jr., Frank Loge, Waldo Burroughs, Leslie Gay, all of Redlands area, and Charles Tayles of Big Bear.
---
GUS KNIGHT JR., ENTREPRENEUR OF BEAR VALLEY AND ROGUE SPORTSMAN
Augustus Knight Jr. was a colorful sportsman and business man of San Bernardino, California, who in 1888 built the first and very successful hostelry at the newly created Big Bear Lake in the nearby San Bernardino Mountains. This large reservoir is located at the then remote headwaters of the Santa Ana River, in those days a two days ride by horseback from the San Bernardino Valley.
While an aggressive businessman, Knight's passion was for exploiting the abundant wildlife in and about the mountain lakes, the wild ducks, trout, and deer, often with little regard for the laws of the time. Because of his near monopoly on duck hunting on the adjacent Baldwin Lake at one time, where the hunting was concentrated, the newspapers of the time labeled him the "Duck Baron of Bear Valley."
One can, perhaps, understand Gus Knight Jr.'s adventures and misadventures better if his paternal background is briefly reviewed, as he and his father were both of a similar disposition; they both were enterprising pioneers in the San Bernardino Mountains.
Gus Knight Sr. came to San Bernardino in 1871 and began freighting from there to the Colorado River, first by ox team and later progressed to a stage line. Next he became famous for installing a locomotive steam circular saw for lumbering at Seeley Flats in the San Bernardino Mountains. He sold this and built a cedar shingle mill on the upper Santa Ana River. Then he settled in Bear Valley and raised cattle with 2500 head at one time. Additionally be built and operated a hotel on the north shore of Baldwin Lake at Bairdstown, a transient boom town which serviced Lucky Baldwin's short-lived great stamp mill on Gold Mountain.
Young Gus Knight Jr. started into the cattle business with his father and ran cattle on the Mojave River prior to his involvement with Bear Valley and the new lake there.
Gus Knight Jr. was a sporting gentleman of the times, an ardent trap shooter, hunter, and fisherman. The newspaper account of 1890 reported that he was the champion wing-shot of San Bernardino. He defeated Dr. Taber at Cole's Race Track in a live pigeon shoot, and the next year he competed against Aaron Wiley of Riverside for the championship and a $500 wager, a princely sum for the times. This same year, 1891, he married Nannie Henry, "one of the prizes of San Bernardino."
Gus Knight rose to prominence in Bear Valley when at the age of 21 in 1888, in partnership with John Metcalf, his sister's husband, he built the first hotel at the new lake. The hotel was an immediate success and soon overbooked. Knight's Landing and Metcalf Bay are prominent reminders today of these earliest developers of Bear Valley.
Before we come to the further exploits of Gus Knight at the mountain lakes, it will be helpful to briefly review the history of Bear Valley. The valley was named for its numerous California grizzly bear when it was first discovered by the pioneers, notably by Benjamin Wilson of the Jurupa Rancho in the Riverside area when pursuing a band of renegade Indians from the Mojave River in 1845. His men lassoed and killed 13 grizzly bear when camped in the valley and repeated the fete killing 13 more bear on their return trip back through the mountains.
Bear Valley, an elongated mountain valley of several miles length, was a marshy meadow used for summer cattle grazing prior to the time of construction of the Bear Valley Dam in 1884. At the east end of the valley lay Baldwin Lake, a shallow alkaline basin becoming a lake during wet weather cycles. At such times the marshy west end of Baldwin Lake would be filled with submerged pond weed which attracted great number of migratory waterfowl. Just over the ridge to the north lay Holcomb Valley, where in the 1860s, a flourishing gold rush settlement h ad come and gone. It was so populous that it was within a few votes of becoming the San Bernardino County seat.
Frank Brown, a young engineer from Redlands, conceived and constructed in 1883-84 the Bear Valley dam, a unique single-arch masonry dam for which he was quite famous. This turned the valley into a beautiful mountain lake surrounded by pine forests, which almost immediately became a very popular mountain resort area. The lake was planned, and proved to be, the main water resource for irrigation of the east San Bernardino Valley, spawning the Redlands world-renowned navel orange industry.
The rains were good in 1885, the first year of they completed dam, and the newspaper reported there was a sparkling lake five miles along. Trout were planted and large numbers of waterfowl appeared in the fall. Hunters and fisherman soon found a Mecca with their numbers increasing yearly, leading to Gus Knight's venture in 1888, the first hostelry in the mountain valley.
Access to Bear Valley from Redlands or San Bernardino was not quick or easy; in those days it was a two day trip by whatever route one chose. From Redlands in the 1880s one could take a Concord stage to Thurman's burro pack station in Mill Creek Canyon, then by horseback up Mountain Home Canyon to Camp Angelus (now Angelus Oaks), down into the Santa Canyon to Seven Oaks where one could find lodging for the night. Then it was up the trail and over the 7900 foot ridge to the north and down into Bear Valley. From San Bernardino one might go out through Cajon Pass, around the desert side of the mountains, and up the Cushenbury Grade wagon road to Baldwin Lake and down to Bear Lake, the route used in building the Bear Valley Dam.
Gus Knight's Bear Lake Hotel of 1888 immediately prospered. The frame building designed for thirty was soon over-booked and expanded to a fifty person occupancy by adding cots. Table fare at the start was trout and venison. Such was the optimism that there was even talk of a railroad to Bear Valley which could also supply ice to southern California in place of that imported from Lake Tahoe at the time. Mule trains were used at that time to bring 100 pound chunks of ice from ponds in the high San Bernardino mountains to San Bernardino where they were met by brewery wagons which hauled them to Los Angeles.
In three years, by 1891, Knight and Metcalf had so many guests they were killing six beeves a week. This was a seasonal operation; a newspaper in October of that year stated "Gus Knight has closed his hotel in Bear Valley and he and his bride will winter at the county seat."
The following year, in 1892,twenty more rooms were added to the hotel and, ever the entrepreneur, Knight was offering lots for sale. The following year the hotel "was consumed by fire -- a total loss, there being no insurance." The hotel was rebuilt and Knight's enterprises continued to prosper. He also continued to be the outstanding sportsman of San Bernardino and in 1895 "won all marksmanship contests" again.
In 1900 the hotel again burned to the ground, was rebuilt, and sold to Knight's brother in law Charles Henry who added 10 more cabins and in 1906 sold the resort, including 112 acres. It was sold to a syndicate of affluent Redlanders know as "the group of unlimited means" and renamed the Pine Knot Resort. This group included such wealthy Redlanders as oil Millionaire Henry Fisher and son John, banker Frank Morrison (built Burgess's house), mining magnate Anthony Hubbard (Hubbard building), and Herbert Garstin of Bear Valley Mutual Water Co. who owned and built on the island in the lake.
After Knight sold his original hotel property he developed other properties and apparently prospered. He subdivided for cabins and by 1918 Knight's Camp had a dining room,, dance pavilion, store, garage, and 40 cabins.
Over the next few years after establishing his original hostelry Knight began constructing shorter and quicker routes to promote his developments in Bear Valley. In 1892 he and Metcalf had extended the City Creek lumber Road running from Highland to the Brooking's Lumber Co. mill in the Running Springs area, through Green Valley to Bear Valley. This reduced travel time from the valley to one and one half days. Next, in 1899, Knight and Hiram Clark constructed the historic Clark's Grade Road from Clark's Ranch, near Seven Oaks in upper Santa Canyon, over the ridge into Bear Valley. At the same time Knight was organizing a group to build a road up Santa Ana Canyon from the valley to Clark's Grade, further reducing the travel time from Redlands to one day. I can recall traveling by Clark's Grade road in the 1920s. It was then still a one way control road; up on certain hours, down on other hours. The present high-gear access road through Mill Creek, Barton Flats, and over Onyx Summit, finally completed in 1961, has reduced travel time from the early two days to less than two hours.
Four thousand Lake Tahoe trout were planted in 1887 in the new lake. In the early years at Bear Lake the trout fishing was phenomenal regarding both the size and abundance of trout. This is usually the case with new lakes as there is an abundance of nitrogen and other nutrients in the soil that eventually leach out. These nutrients support an abundance of miniscule aquatic organisms upon which the small fish feed, which in turn are fed upon by the larger fish. In 1891 a 13 pound trout was boated and the next year an amazing 16 pounder was recorded. A later reporter stated "The burly rainbow trout of Bear Lake -- made the lake famous from ocean to ocean, as unique in its way as Catalina Island is for the marine "Big Game [Fish]." Fishing was also phenomenal in Bear Creek below the dam and in the upper Santa Ana River which it joins. In 1890 a party of four boasted of catching 685 trout in one day before noon.
A newspaper of May 1893 reported, "Gus Knight, Jr. is said to have caught 49 trout at the Bear Valley Dam aggregating 300 lbs. ,i.e., averaging six lbs. apiece." If Gus had simply told it himself it would have been considered reasonably truthful, but the verification of the Times-Index fixes it." He was cited several times for exceeding the fish limit. Dynamiting fish was reportedly done on occasion. It appears that such huge catches were commercially motivated as some years later in 1913 he was fined $100 for shipping 49 six to seven pound Big Bear trout from Victorville. The legal limit was 10 pounds and one fish. Knight claimed they were steelhead trout which allowed a commercial limit of 50 fish To have been steelhead they would have to have swum down the Santa Ana River to the ocean and then returned back up the Santa Ana and over the dam! Two years later, even after the $100 fine, Gus was appointed Fish and Game Commissioner of Bear Valley. Such is politics!
In 1910 Gus was cited by the game warden for eight limits of ducks in possession destined for the L. A. and Santa Monica restaurants and clubs. Selling game then was not illegal if the legal limit, then 50 ducks in possession, was not exceeded. Gus claimed that the limits were from his two some, two workmen, and three independent hunters. In 1911 Frank Loge of Redlands when hunting recalls seeing a wagon load of ducks from Gus Knight going down the grade to the railroad at Victorville for shipping to the Los Angeles market. He also recalled hunting with Mrs. Knight who was an expert shot. A newspaper reported, "A warrant was served on Gus Knight for dispensing liquor without a license, but that would not dampen him anymore than arrests for catching fish out of season or selling wild ducks [illegally] on the market."
While Gus Knight was prominent in many ways in Bear Valley he was perhaps best known for the developing of commercial duck hunting activities for sportsman, centered on Baldwin Lake, which he promoted and largely controlled for many years, hence his title, according to one newspaper account, of "The Duck Baron of Bear Valley". Starting in the winter of 1904-05 there was a prolonged wet cycle lasting about two decades which kept Baldwin Lake from drying up, which occurs during dry weather cycles. By this time roads to Bear Valley were becoming much improved. With the coastal Los Angeles and Orange County wetlands being progressively eliminated by urbanization, except for private duck clubs, Baldwin and Bear Lakes were the main focus for much of southern California duck hunting. Popular Gus Knight rode the crest of the wave for a number of years. The newspaper reported in 1915, "Hunting [at Bear Valley] was not the same without Gus Knight to center the sportsman crowd." Gus Knight exploited the duck hunting both by illegal market hunting and by legally supplying the sportsmen with room and board, renting them boats and blinds.
Duck hunting was very popular in Redlands during these years and the local newspapers often gave detailed reports of duck hunting trips by prominent citizens during the duck season. On November 11, 1911 Will Thornquest, Chauncy Clem, A. L. Moore, Frank Mulvihill and Oliver West, "left for Bear Valley for a week of duck shooting. Loaded with shot guns and ammunition they will Make Gus Knight's record for duck killing look like 30 cents. They have bought a cabin and several canoes and intend to make the trip every year." In December Dr. W. W. Phelps, S. E. Kanady, Ed Mossbaugh and H. E. Sellheimer reported the best eight days of sport they ever had, each getting their limit of 50 ducks per day.
In 1913 it was reported that, "a [Redlands] party of C. J. Trip, S. E. Kanady, John Sering, Fred Hill, Dr. Pugh, and Glen Hoover in two days of hunting each got their daily limit, reduced this year to 25.
On the opening of the duck season on October 14, 1914 the newspaper reported, "Bear Valley will be Mecca for many local hunters. Thursday is the day when the law declares war on the duck tribe legal. Many of the nimrods are planning to be ready for the slaughter when the day breaks and the season is declared open. Harry Beal, the [prominent black] mountain stage man will take two loads of hunters to the valley on Wednesday including [prominent citizens] H. H. Ford, W. T. Thornquest, Fred Gowland, C. J. Tripp Jr., Walter Alden, Henry Crain and others.
The good years continued. In 1917 a news article reported, "In reviewing California duck season generally, numerous [hunting] camps have been established [in Bear Valley] by former market hunters who no longer find it profitable to operate under bag limit restrictions [of 25 ducks] and turned to guiding hunters as more legitimate and paying better besides." "Preparation for the opening of duck season in the resort centers dedicated to the sport have made records this year. Bear Valley has gone into the duck business on a most expansive scale. Dozens of tank blinds have been sunk in Baldwin Lake by Gus Knight, boats are at a premium and the greatest opening day attendance is predicted."
Historian of our local mountains La Fuze writes, "Gus Knight had done something different: from the Oxam [Gold Mountain mines] estate he had obtained all the lands around Baldwin Lake and rushed to build on the north shore a log clubhouse with a pier and numerous duck blinds." The Review of October 7, 1917 reported, "It had been reported that Knight was the 'Duck Baron of Bear Valley' and had everything cornered. Here's the real situation: Gus Knight has not leased all of Baldwin Lake shore and there is no monopoly on the ducks. G. K. has purchased or leased about 1/4 of the Baldwin Lake shore [the best hunting area], fenced the land, and has put in three groups of blinds. There are about 40 blinds for guests at Knight's camp for a 3/day [hunt with one day] at each group of blinds, a keeper to boat hunters to their blinds, scare up the ducks by motor boat, and pick up their ducks." Gus explains further, "My arrangement will be a boost to the sport and in the common cause, for the land I heave secured [by fence] is in three pieces. All these pieces will not be used at the same time except on busy days, and the ducks will have a protected place to light and rest. The arrangement will serve the same as 'rest ponds' maintained by all big gun clubs -- the valley is full of ducks."
Waterfowl were unbelievably numerous in those days and duck hunting was very popular, probably reaching its zenith in 1919 when the Redlands Daily Facts reported that an estimated 5,000 ducks were killed in the first two days of the season. On Baldwin Lake there were an estimated 300 hunters with 90 boats plus many shore blinds. Gus Knight said that he had never seen so many ducks. Between the duck hunting fever and concurrent quail season opener, Redlands was largely depopulated of its male population on opening day of the season.
In 1920 Gus Knight sold his Bear Lake resort, retiring to a hunting and fishing life in the mountains and to his orange ranch in the valley in Highland where he built a modern home.
For his mountain recreation he built in 1920 a hunting lodge on the north shore of Baldwin Lake to entertain his friends and guests.
In the early 1920s, without Knight's control of the Baldwin waterfowl hunting, a number of duck camps sprang up, supplying boats for hunting and also some duck blinds and lodging. I have found no description of this period of Baldwin hunting except for a few brief newspaper incidents and some notes from conversations with some of my "hunting patients" and friends from the early years of my practice. Fred Gowland recalled that Jim Stocker had a duck camp on Baldwin which rented boats. The Daily Facts of January 1922 stated that a total of 76 ducks, field dressed and hung out to freeze over night, were stolen from the Stocker, Knight and Belt duck camps.
In December 1923 Leon Atwood Jr. recalled hunting at Stocker's Camp on the northwest side of Baldwin Lake. There was a small zoo there with raccoons, bobcat and coyote. Leon, then a teenager was hunting wit his father Leon Atwood, Sr., Ernest Shay, and Jim Stocker. He described the duck camp as "a hunting lodge of sorts." Hunting was from boats or sometimes along the shore from brush blinds or from a promontory. On this occasion Leon recalls that the mountains experienced a fierce wind, and torrential rains. The lake came up one and half feet, swamping boats along the shore. Leon, a great raconteur, recalled "The thin-walled cabins seemed to expand and contract with the blasts of wind almost as if breathing." Steel cables attached to a dead man in the ground kept the cabins from blowing away.
Waldo Burroughs, former mayor of Redlands hunted at Belt's Camp in 1924. Belt had "a duck hunting rental operation on the northwest shore of Baldwin with stilt blinds in the lake and about a dozen row boats renting for two dollars." Waldo also did pass-shooting between the lakes especially from a hogback on the northwest shore.
Charles Tayles who had a boat rental and dock in Boulder Bay on Big Bear Lake for many years and was an avid duck hunter, recalls from the 1920s that there was also Ballard's Camp on Baldwin's east shore in an area referred to as Ballard's Bay.
According to Leon Atwood Jr., from 1920 through 1923 an annual wild duck dinner was given for the participants and members of the National Orange show organization in San Bernardino. Three hundred to four hundred dinners were provided with wild ducks supplied by a group of prominent San Bernardino duck hunters. This included such well known sportsman as Dale Gentry (hotel owner), Jim Stocker (County Sheriff), Harry Allison (County Clerk), the Shay brothers, and Leon Atwood Sr. These ducks were usually obtained at Baldwin Lake and consisted of about 60% canvasback, the preferred species, and the rest mostly redheads. The limit then was 25 but one could have 50 in possession on a two day hunt. Five hundred ducks were usually supplied for these events. The ducks were accumulated for the event in 10 gallon creamery cans and frozen.
In 1924 the lake was low and there was apparently less hunting during the late 20s.
My first personal recollection of Baldwin Lake was in the 30s when the lake was completely dry with a white alkali flat in the bottom except for a small marshy area at the west end. There was no evidence of former hunting camps or habitation about the lake except for a derelict shack on the east shore with remnants of a small dock on a shore line well above the alkali flat and blue dots in the white alkali from ancient brass shotgun shell hulls, the copper in the brass reacting with alkaline salts of the lake bed.
However, when the wet years have periodically returned, so have the ducks, though never as numerous as before the great duck depression of the 30s during the "dust bowl years." Bear Lake has been closed to hunting for a number of years due to the proximity of dwellings and the heavy boating and fishing recreational use. Baldwin Lake's hunting was spared this same fate when in 1985 the County Supervisors were about to also close Baldwin Lake for hunting due to the melee of uncontrolled shooting during duck openers. Local hunters, California Fish and Game, and the U. S. Forest Service, with my intervention, worked out a plan of controlled hunting from boats with reservations which has proved satisfactory.
When the weatherman fills the lake, Baldwin can still be one of the better southern California duck hunting places for the unattached hunter. Hopefully, reclaimed water from the Bear Valley sewage plant will be upgraded and made available to maintain a permanent waterfowl area to perpetuate our waterfowl heritage for bird watchers, nature enthusiasts, and hunters as well.