MEETING # 1603
4:00 P.M.
APRIL 30, 1998
---
Come Hell and High Water
by Myron J. Talbert M.D.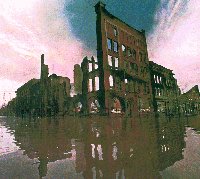 Assembly Room, A. K. Smiley Public Library
---
BIOGRAPHY OF THE AUTHOR
Myron J. Talbert M.D. was born on April 1, 1923, in Omaha, NB
Education
· Undergraduate: U. of N. Dakota
· Graduate: M.D., Temple U. School of Medicine
· Internship: Madison General Hospital, WI
· Military: US Army, Orthopedic Surgery, 2 yrs
· Residency: Madison, WI, General Surgery, 4 yrs
Medical Practice
· General Surgery, Redlands, CA, 1956, to Jan. 1990
Past Medical Organization Activities
· Chief of Staff Redlands Community Hospital, 1960-61, 1975-77.
· Chief of Staff, San Bernardino County Hospital
· Clinical Instructor in Surgery, SB County Hospital, 25 years.
· Assistant Professor of Surgery, Loma Linda Medical School
· Co-founder and general partner, Inland Surgery Center, Redlands
· President San Bernardino County Medical Society
· President San Bernardino Foundation for Medical Care
· President Tri-County Surgical Society
· Delegate to California Medical Association State Blue Shield Board, 6 years
Community Activities
· One of the founding members of the Redlands Racquet Club, and third president
· One of the original members of the Redlands Swim and Tennis Club
· Kiwanis, 34 years
· Redlands Chamber of Commerce
· Forum Club of Redlands
· Member of the First United Methodist Church, where he served as usher and member of the building committee for the present sanctuary
· Second president of the Redlands Art Association
· Song and dance man in all five "Fractured Follies" musical shows 1965-1963 benefiting Redlands Community Hospital
Sports and Hobbies
· Tournament winner in golf (low net) in San Bernardino County Medical Society's annual event plus the winner in both tennis singles and doubles.
· Enjoys fishing, wood carving, and painting.
Family
Wife: Harriet, well-known Redlands accompanist for the Redlands Bowl community sings each summer, and for three Bowl musicals, and more than 24 Redlands High School musical, and the five RCH follies.
Children: Kathy Talbert Weller, Brooklyn, NY; Barbara Hardy? Santa Ana, CA; Nancy Talbert Belk, Redlands, CA; Mike Talbert, Grand Terrace, CA
During Mike's childhood in Grand Forks, ND, his father, Doctor G. A. Talbert, was a member of a Fortnightly Club and many meetings were held in his home.
---
COME HELL AND HIGH WATER
I WAS BORN IN OMAHA, NEBRASKA AND WHEN I WAS ABOUT EIGHTEEN MONTHS OLD MY PARENTS MOVED TO GRAND FORKS, NORTH DAKOTA, WHERE MY FATHER BECAME THE PROFESSOR OF PHYSIOLOGY AND PHARMACOLOGY AT THE UNIVERSITY OF NORTH DAKOTA SCHOOL OF MEDICINE. SO I WAS RAISED IN THAT COMMUNITY AND ATTENDED THE PUBLIC SCHOOLS, THE UNIVERSITY OF NORTH DAKOTA AND THE FIRST TWO YEARS OF MEDICAL SCHOOL WHICH WAS, AT THAT TIME, A TWO YEAR SCHOOL.
IT WAS THERE IN CENTRAL HIGH SCHOOL THAT I MET A BEAUTIFUL BROWN-EYED PIANO PLAYER WHOM I CHASED FOR SIX YEARS 'TILL SHE FINALLY CONSENTED TO BE MY BRIDE (FOR BETTER OR FOR WORSE).
WHILE LIVING IN GRAND FORKS WE EXPERIENCED SOME HORRENDOUS BLIZZARDS WITH TEMPERATURES OF -45 DEGREES OR MORE. THEY DIDN'T FIGURE THE WIND CHILL FACTOR IN THOSE DAYS. THE MOST IMPRESSIVE BLIZZARD TO ME OCCURRED ON MARCH 15, 1941 (THE IDES OF MARCH) WHILE I WAS A FRESHMAN IN COLLEGE.
THE DAY HAD BEEN WARM WITH TEMPERATURES IN THE FORTIES AND WE THOUGHT IT MUST BE THE FIRST BREATH OF SPRING. I WAS LOOKING FORWARD TO THE APACHE PARTY AT MY ATO FRATERNITY HOUSE AND A DATE WITH THE BROWN EYED PIANO PLAYER.
MY BROTHER AND I HAD OUR FAMILY CAR AND WE PICKED UP HARRIET FIRST. AS WE LEFT HER HOUSE WHICH WAS SOME TWO MILES FROM THE FRATERNITY HOUSE, LARGE WET SNOW FLAKES BEGAN TO FALL AND THE WIND BEGAN TO BLOW. BY THE TIME WE WERE HALFWAY THERE, THE VISIBILITY BECAME ALMOST ZERO. MY BROTHER GOT OUT OF THE CAR AND WITH ONE HAND ON THE FENDER, HE FOUND THE CURB WITH HIS FOOT AND THUS WE INCHED OUR WAY AROUND PARKED CARS 'TILL WE REACHED THE FRATERNITY HOUSE. IT TOOK OVER A HALF HOUR TO GO THE TWO MILES. BY THAT TIME THE TEMPERATURE WAS DROPPING AND WE FOUND OURSELVES IN A FULL BLOWN BLIZZARD.
OBVIOUSLY IT WOULD BE DANGEROUS TO TRY TO TAKE HARRIET HOME SO WE CALLED HER MOTHER WHO RELUCTANTLY ALLOWED THAT IT WAS BEST TO SPEND THE NIGHT AT THE ATO HOUSE. SO WE MADE HER AN HONORARY MEMBER, SHE BORROWED A PAIR OF PAJAMAS FROM ONE OF THE SMALLER FRATERNITY MEMBERS AND TOGETHER WITH TWO OTHER GIRLS, WHO ALSO MADE IT TO THE PARTY, SPENT THE NIGHT.
THE BLIZZARD DIDN'T, HOWEVER, DETER SOME OF MY FRATERNITY BROTHERS FROM VENTURING OUT TO GET THEMSELVES STRANDED AT NEARBY SORORITY HOUSES. SOME PAID THE PRICE WITH FROZEN EARS!
THE STORM LASTED WELL INTO THE NEXT DAY AND THE TEMPERATURE FELL TO NEAR ZERO. SEVERAL DEATHS OCCURRED IN THAT BLIZZARD INCLUDING BY THIRD GRADE TEACHER. PEOPLE WHO BECAME STALLED IN THEIR CARS DIED IF THEY LEFT THEIR CARS TO TRY TO WALK IN THE BLIZZARD. WITH THE SNOW BLOWING HORIZONTALLY, ONE COULD EASILY BECOME DISORIENTED AND LITERALLY WALK IN CIRCLES, HYPOTHERMIA TAKES OVER, THERE IS LOSS OF CONSCIOUSNESS AND ULTIMATELY DEATH.
A WORD ABOUT BLIZZARDS; A BLIZZARD IS DEFINED AS A WIND OF THIRTY~FIVE MILES AN HOUR OR MORE WITH FALLING OR BLOWING SNOW SO THAT THERE IS NEAR ZERO VISIBILITY. I SPEAK OF BLIZZARDS BECAUSE THEY PLAYED A LARGE PART IN WHAT WAS TO COME IN THE SPRING OF 1997.
ORDINARILY THERE ARE THREE TO FOUR BLIZZARDS A YEAR IN NORTH DAKOTA BUT IN THE WINTER OF 1996-97 THEY HAD EIGHT. THAT YEAR THEY ASSIGNED NAMES TO THE BLIZZARDS AS THEY DO WITH HURRICANES.
THE COLD WEATHER AND SNOW BEGAN EARLY IN NOVEMBER WITH THE AVERAGE TEMPERATURE 9.4 DEGREES BELOW NORMAL FOR THE MONTH. THERE WAS NO RELIEF DURING THE NEXT TWO MONTHS. THE TEMPERATURE ROSE ABOVE FREEZING ONLY ONE DAY IN DECEMBER AND THREE DAYS IN JANUARY.
A WINTER THAW USUALLY OCCURS IN JANUARY AT WHICH TIME THE TEMPERATURE MAY GO AS HIGH AS FIFTY DEGREES. THIS PROVIDES FOB SOME RUN OFF OF THE ACCUMULATED SNOW SO WHEN SPRING COMES THERE IS NOT THE TREMENDOUS RUN OFF AS OCCURRED IN 1997.
THE FIRST BLIZZARD WAS ANDY DROPPING TWELVE INCHES OF SNOW NOVEMBER 16 AND 17. THE SECOND WAS BETTY A MONTH LATER DECEMBER 16 THROUGH 18, CHRISTOPHER WAS NEXT OCCURRING JUST TWO DAYS AFTER ON DECEMBER 20. DORIS THEN DROPPED 8.8 INCHES ON JANUARY 9 AND 10. FOUR DAYS LATER ELMO STRUCK LASTING TWO DAYS. FRANZIE WAS NEXT ON JANUARY 22 AND 23. THE YEAR TO DATE THEN WAS 67.4 ACCUMULATED SNOW, THERE HAS A MONTH LONG RESPITE IN FEBRUARY AND A BRIEF STORM OCCURRED MARCH 4TH NAMED GUST.
THE FINAL BLIZZARD, HANNAH, WAS A DANDY OCCURRING APRIL 4tb AND 5th
BRINGING THE TOTAL SNOW FALL FOR THE YEAR TO 97.4 INCHES. IT CARE AT A MOST UNWELCOME TIME ESPECIALLY IN FARGO JUST AS THE WATER IS THE RED RIVER WAS RAPIDLY RISING. THE SNOWFALL IN GRAND FORKS WAS BAD ENOUGH BUT UPSTREAM IN FARGO THEY BROKE ALL PREVIOUS RECORDS WITH 28 INCHES MORE THAN PREVIOUSLY RECORDED BRINGING THE TOTAL TO 117 INCHES.
THE RED RIVER OF THE NORTH IS UNIQUE IN THAT IT IS ABOUT THE ONLY RIVER IN THE UNITED STATES THAT FLOWS NORTH. IT IS ONLY 565 OR SO MILES IN LENGTH. IT BEGINS IN BRECKENRIDGE, MINNESOTA WHERE THE BOIS de SIOUX AND THE OTTERTAIL RIVERS COME TOGETHER. OTHER SMALLER RIVERS JOIN SUCH AS THE WILD RICE, THE ELM, THE SHEYENNE, THE GOOSE AND, OF COURSE, THE RED LAKE RIVER. THE LATTER GIVES GRAND FORKS ITS NAME AS IT IS WHERE THE RED AND THE RED LAKE RIVERS JOIN. THE RED LAKE RIVER HAS ITS ORIGIN IN RED LAKE, MINNESOTA AND JOINS WITH THIEF RIVER TO MAKE THE RED LAKE RIVER. THE RED RIVER FINALLY EMPTIES INTO LAKE WINNIPEG' MANITOBA.
BRECKENRIDGE, MINNESOTA WAS THE FIRST CITY TO BE FLOODED. BLIZZARD HANNAH HAD STRUCK WITH TEMPERATURES FROM 5 TO 20 DEGREES F. WHICH CAUSED SURFACE FREEZING LEAVING JAGGED SHEETS OF ICE THAT LOOKED LIKE WHITE CAPS ON A LAKE. FIVE HUNDRED BUILDINGS WERE DAMAGED AND 1,000 OF ITS 3,700 RESIDENTS HAD TO BE EVACUATED. EIGHT INCHES OF SNOWS FELL AND THE RED RIVER ROSE THREE FEET IN TWENTY-FOUR HOURS. THE COLD WEATHER MADE SAND BAGGING MORE DIFFICULT AS THE WET SAND FROZE MAKING THE BAGS RIGID -- MORE LIKE IRREGULAR BRICKS. SANITARY SEWER SERVICES WERE LOST THEN AFTER THE DIKES WERE BREACHED.
THE FARGO FORUMS JACK ZALESKI WROTE AN EDITORIAL DESCRIBING HIS EXPERIENCE ON APRIL 4, 1997. IT APPEARED IN THE APRIL 12TH FARGO FORUM. I QUOTE:
A week ago I wrote about flood preparations in my neighborhood on the Sheyenne River south of west Fargo. I was confident I was ready for just about anything nature could dish out. I was sure the neighborhood was prepared. "So far, so good," I said.

I spoke too soon.

When the electricity failed at about 7 p.m., Saturday, April 5, all bets were off. When a cold rain turned to ice, and then into a fierce blizzard, I knew we'd lost the battle with frigid groundwater rising into our home's lower level through three sump pump wells.

Family, friends, neighbors and several strangers who just showed up in the icy darkness joined the future bucket brigade. We bailed from the sump wells for hours - and seemed to be keeping ahead of the inflows.

But: when I finally got through to the electric company, we changed tactics. No power would be restored at least until Monday, maybe Tuesday, said the harried voice on the phone. There was no way to bail for days, and not enough portable generation capacity in the neighborhood to help everyone.

The water haulers became furniture movers as we lifted everything we could from the lower level rooms to the main floor. Again, the help of friends and strangers was crucial. we could not have done it without them.

So the water rose - six inches, a foot - and then seemed to stabilize. Outside the ice storm was evolving into a blizzard. Snow drifted across the neighborhood, visibility diminished.

The workers left and my family headed to town to bunk in with friends and relatives. I decided to stay with the house, hoping to keep the place warm by stoking the wood stove through the night. I hauled in a pile of firewood, grabbed extra flashlight batteries, lit several kerosene lamps and resolved to ride out the storm.

The neighborhood got quiet. Other than flashlight beams dancing across darkened windows, it appeared most everyone was settling in for the night or had left the subdivision.

For a moment, the storm seemed to subside. The silence in the dark house was broken only by crackling from the woodstove and the occasional slosh of the water in the lower level. Eerie.

I wrapped up in a sleeping bag, turned up a kerosene lamp and grabbed a copy of "Moby Dick." Surely, treat would put me to sleep.

Then the wind struck. Like a bomb. The house shook and seemed to be under attack as ice-coated twigs and branches began pummeling the roof, siding and windows. Better check the dog, I thought.

Outside it was positively dangerous. Branches and ice chunks were raining down in the wind. The short run to the kennel and back was exhausting because of deep snow, the howling wind and the icy shrapnel. The dog was fine, -curled up and sleeping as if nothing were amiss.

The noisy night passed, the woodstove kept the house well above freezing and I even slept a little.

The blizzard roared into Sunday morning and began to abate by afternoon. Snow was drifted into mountains across the yard. The drifts were decorated with huge tree limbs which had been snapped off during the night.

Later in the day I ran a line from a neighbor s generator and began moving water out the basement windows with small submersible pumps. It was not enough to lower the water level.

I crashed in town Sunday night while one of my great neighbors kept the stove stoked so the house would stay warm.

Monday morning, power was restored. Equipped with a gasoline-powered pump, I worked with family and neighbors to drain the flooded rooms. A few hours later I got the three crippled sump pumps repaired and operating.

The mess downstairs was astonishing. We won't know how bad it really is until cleanup is completed. And when compared to the damage others are dealing with in the flood of '97, our situation is not much.

Fighting the water and losing was a lesson. It's awful. The helplessness we felt was infuriating. The resignation that came as the water rose was depressing.

But the lesson included this: Family, friends and neighbors are important. Even in the cold and wet conditions of a week ago, pulling together with them generated warmth.

(Zaleski is editor of The Forum's opinion pages. He can be reached by electronic mail at: zaleskl]@forumcomm.com)
ON APRIL 16TH THE FARGO FORUM REPORTED THE RED RIVER WAS TEN MILES ACROSS IN SOME PLACES DUE TO THE OVERFLOW OF SEVERAL TRIBUTARIES CAUSING FLOODING OF THE ALMOST FLAT LAND SO CHARACTERISTIC OF THE EASTERN NORTH DAKOTA TERRAIN. MANY FARMERS WERE ABLE TO SANDBAG AROUND THEIR HOMES BUT EVEN THEY HAD TO BE EVACUATED WREN IT WAS NECESSARY TO RIP UP A PORTION OF HIGHWAY 93 TO ALLOW FLOW OF THE WATER.
ON APRIL l8TH THE TEMPERATURE ROSE TO 50° ADDING TO THE FLOOD FROM RAPID SNOW MELT. THE CREST IN FARGO WAS ANTICIPATED THEN AT 39,51 FEET. ABOUT SIX P.M. THAT DAY THE DIKE GAVE WAY SENDING A FIVE FOOT WALL OF WATER DOWN THE STREET KNOCKING DOWN SEVERAL HIGH SCHOOL STUDENTS WHO HAD BEEN PATROLLING THE DIKE, IT IS AMAZING THAT THERE WERE NO LIVES LOST. ALL OF THE HIGH SCHOOL AND UNIVERSITY STUDENTS HAD BEEN LET OUT TO HELP SAND BAGGING.
THERE WAS TREMENDOUS COOPERATION. JEFF LOPEZ, WHO OWNED A CONSTRUCTION FIRE, DONATED ALL HIS HEAVY EQUIPMENT TO THE EFFORT. THE RED CROSS OPENED SHELTERS AND 849 VOLUNTEERS FROM ALL OVER THE COUNTRY CAME IN TO HELP, THE SALVATION ARMY SENT 600 VOLUNTEERS TO FARGO.
GRAND FORKS SOME 75 MILES NORTH AND DOWNSTREAM WAS FAR FROM REACHING ITS CREST. GRAND FORKS BEGAN TO PREPARE FOR THE ONSLAUGHT ON APRIL 3rd BUT BLIZZARD HANNAH COMPLICATED THINGS WITH FIRST FREEZING RAIN WHICH CAUSED ICE TO FORM ON ALL THE WIRES AND TREES AND CAUSING THE WIRES TO SNAP. THIS RESULTED IN 300,000 PEOPLE BEING LEFT WITHOUT POWER, ALL THIS CONTRIBUTED TO THE DELAY IN BUILDING THE DIKES HIGHER, THE ANTICIPATED CREST WAS REVISED SEVERAL TIMES.
BY APRIL 18TH THE BATTLE APPEARED TO BE TURNING AGAINST THEM, AT 2:45 A.M. THE RIVER WAS AT 51,42 FEET, AT 4:15 A.M., BOILS APPEARED IN THE DIKE AND BY 6:00 A.M.. RIVERSIDE AND CENTRAL PARK AREAS WERE ORDERED EVACUATED. BY 8:20 P.M.,. MY OLD HOME ON SOUTH FOURTH STREET WAS PARTIALLY UNDER WATER, BY 11:00 P.M. THE DIKE NEAR THE KENNEDY BRIDGE FAILED CUTTING OFF ALL TRAFFIC BETWEEN GRAND FORKS AND THEIR TWIN CITY, EAST GRAND FORKS, MINNESOTA.
BY 5:00 A.M. APRIL 19TH THE WATER WAS FOUR FEET DEEP IN DOWNTOWN GRAND FORKS. AT 2:20 Pal. ON APRIL 19TH THE LOCAL NEWSPAPER, THE GRAND FORKS HERALD (located in downtown Grand Forks) WAS FLOODED MAKING IMMEDIATE EVACUATION NECESSARY FROM THE DOWNTOWN AREA.
MANVEL, A TOWN 12 MILES NORTH AND WEST OF GRAND FORKS CAME TO THE RESCUE. THE PUBLIC SCHOOLS AND THE TRINITY LUTHERAN CHURCH PROVIDED THE. HERALD WITH COMPUTERS SO THAT NOT A SINGLE PUBLICATION WAS MISSED, THE ST. PAUL PIONEER PRESS, A MEMBER OF THE KNIGHT RIDDER ORGANIZATION, PROVIDED PRINTING OF THE PAPER, WHEN I SAW THE PUBLICATION BY THE GRAND FORKS HERALD AND THE KNIGHT RIDDER ORGANIZATION, "COME HELL AND HIGH WATER" I SAID THIS SHOULD BE AWARDED THE PULITZER PRIZE AND SURE ENOUGH ON APRIL 15, 1998 THAT HAPPENED.
ON APRIL 19th BEFORE THE CREST HAD BEEN REACHED, THINGS APPEARED TO BE AT THEIR WORST. THEN TO ADD HELL TO THE HIGH WATER A FIRE BROKE OUT AT 4:15 P.M. IN THE SECURITY BUILDING ON THIRD STREET IN DOWNTOWN GRAND FORKS, THE SAME AREA THAT HOUSED THE GRAND FORKS HERALD.
BEFORE ANY ATTEMPT COULD BE MADE TO PUT OUT THE FIRE THE FIREMEN WERE FORCED TO EVACUATE FORTY PEOPLE, WHO HAD STUBBORNLY REFUSED TO LEAVE BEFORE, FROM A RESIDENCE HOTEL. FIREMEN WERE THWARTED FURTHER BY THE FOUR FEET OF ICY COLD WATER FLOWING RAPIDLY MAKING IT HARD TO STAND AGAINST THE CURRENT AND IN ADDITION DODGING CHUNKS OF ICE AND AN OCCASIONAL FILE CABINET. THREE FIREMEN WEARING WADERS IN THE 38° WATER FOR AN HOUR HAD TO BE HOSPITALIZED FOR HYPOTHERMIA. ONE WEIGHED 270 POUNDS AND WAS 6'6" tall.
WHEN THEY WERE ABLE TO LOCATE FIRE HYDRANTS THEY FOUND THERE WAS NO PRESSURE, A PUMPER WAS BROUGHT IN BUT IT BLEW OUT IN JUST A FEW MINUTES. IT TOOK TWENTY-TWO HOURS TO PUT THE FIRE OUT USING HELICOPTERS AND PLANES. SIXTY DROPS 0F 2,000 GAL. EACH HELPED TO STOP FURTHER SPREAD BUT THAT WAS ONLY AFTER ELEVEN BUILDINGS WERE DESTROYED. THE NEWSPAPER OFFICE, THE BANKS AND EVERY BUSINESS HOUSED IN THOSE BUILDINGS LOST ALL THEIR RECORDS FOREVER.
THE CREST WAS FINALLY REACHED IN GRAND FORKS ON APRIL 21 AT 54.11 FEET, 26 FEET ABOVE FLOOD LEVEL.
ALL TOLD 47.000 OF THE 50,000 RESIDENTS OF GRAND FORKS AND NEARLY ALL OF EAST GRAND FORKS HAD TO BE EVACUATED, FOUR THOUSAND EAST GRAND FORKS RESIDENTS WERE HOUSED IN CROOKSTON, MINNESOTA TWENTY-FIVE MILES AWAY. MORE THAN 3,000 PROM GRAND FORKS WERE HOUSED IN THREE F-16 FIGHTER JET HANGERS ABOUT FIFTEEN MILES WEST OF GRAND FORKS. MANY RESIDENTS WENT TO HOMES OF FRIENDS OR RELATIVES IN OTHER SURROUNDING TOWNS OUT OF THE FLOOD AREA.
THEN CAME THE LONG AND DIFFICULT JOB OF REPAIR, DEMOLITION AND REBUILDING AS WELL AS PREPARATION FOR FUTURE FLOODS. PEOPLE PILED THEIR DESTROYED BELONGINGS ON THE BERM IN FRONT OF THEIR HOUSES TO BE PICKED UP BY THE CITY. UGLY MOUNTAINS OF DEBRIS APPEARED EVERYWHERE LINING THE STREETS, SHORTLY AFTER THE WATERS BEGAN TO RECEDE, A LIMITED NUMBER OF MOTEL ROOMS WERE MADE AVAILABLE TO REFUGEES. LATER A WHOLE CITY OF MOBILE HOMES WERE BROUGHT IN, MANY PEOPLE HAD TRAILERS AND RV'S TO LIVE IN. IT WAS MAY 2ND BEFORE NONPOTABLE WATER WAS AVAILABLE IN THE PIPES AND IT WAS NOT UNTIL MAY 12TH THAT IT WAS POTABLE.
THE MAYOR OF GRAND FORKS IS A REMARKABLE LADY NAMED PAT OWENS. SHE DID AN INCREDIBLY HEROIC JOB DURING THESE TRYING TIMES. SHE HAD COME UP THROUGH THE RANKS HAVING BEEN A SECRETARY TO MAYORS BEFORE HER FOR THIRTY-TWO YEARS. ALTHOUGH SHE DID NOT HAVE A COLLEGE EDUCATION, SEE CERTAINLY WAS EXPERIENCED AND VERY WELL TRAINED FOR THE JOB. WREN SHE RAN FOR MAYOR HERSELF SHE WON THE OFFICE BY 76% OF THE VOTE. SHE WON THE ADMIRATION AND GRATITUDE OF NEARLY EVERYONE -- BOTH LOCALLY AND NATIONALLY. HER FACE BECAME WELL KNOWN AS SHE WAS INTERVIEWED ON ALL THE MAJOR TV STATIONS NATION WIDE FOR WEEKS.
MANY PEOPLE DONATED THEIR TIME AND MONEY TO THE VICTIMS OF THIS DISASTER. BOTH THE RED CROSS AND THE SALVATION ARMY PROVIDED FOOD AND DRINKS (WATER AND SODAS) FIRST AT CENTERS THEN WHEN THE WATER RECEDED ENOUGH TO DRIVE ON THE STREETS THEY CRUISED THE STREETS DISPENSING THE FOOD AND WATER FREE THREE TIMES A DAY.
JOAN KROC OF THE McDONALD HAMBURGER FAMILY DONATED TWENTY MILLION DOLLARS TO PROVIDE $2,000 TO THE HEAD OF EACH FAMILY AFFECTED BY THE FLOOD, ONE ANONYMOUS DONOR GAVE FIVE MILLION DOLLARS.
THE HIGH SCHOOL JUNIOR-SENIOR PROM WAS NOT OVERLOOKED, PEOPLE MAGAZINE ON JULY 14, 1997 REPORTED THE AIR FORCE BASE DONATED THE USE OF A HANGAR AND THE OFFICER'S WIVES HELPED DECORATE IT. JESSICA McCLINTOC, A PARTY DRESS DESIGNER AND FORMER SCHOOL TEACHER, DONATED 350 PROM DRESSES FOR THE GIRLS AND A MEN'S FORMAL WEAR COMPANY LOANED 250 TUXEDOS. A ROCK BAND FROM MINNESOTA CALLED "SOAL ASYLUM" PLAYED WITHOUT CHARGE.
DEMOLITION WAS BEGUN ON JULY 3RD AT WHICH TIME 150 HOUSES AND GARAGES HERE TO BE BULLDOZED. IN GRAND FORKS IT WAS ESTIMATED IT WOULD TAKE SEVENTY MILLION DOLLARS TO RENOVATE THE DOWNTOWN ALONE. DISASTER RELIEF STARTS WITH FEMA. IT IS PART OF AN EIGHT BILLION SUPPLEMENTAL BILL WHICH ALSO FUNDS MILITARY OPERATIONS IN BOSNIA AS WELL AS AID TO VICTIMS OF NATURAL DISASTERS IN SEVERAL STATES.
THE BILL FOR FUNDS TO BE ALLOCATED TO NORTH DAKOTA AND MINNESOTA WAS HELD UP DUE TO THE TYPICAL POLITICAL MANEUVER OF TACKING ON COMPLETELY UNRELATED BILLS. FINALLY CLINTON SIGNED THE DISASTER RELIEF BILL ON JUNE 14TH AT WHICH TIME HUD SECRETARY, ANDREW CUOMO, AWARDED 110 MILLION IN GRANT FUNDS IN ADDITION TO 50 MILLION TO THE CITY. IN THE RELIEF ACT, CONGRESS HAD ALLOCATED 500 MILLION TO THE CITY. IN THE RELIEF ACT, CONGRESS HAD ALLOCATED 500 MILLION FOR COMMUNITY BLOCK FUNDS BUT 35 OTHER STATES WERE TO SHARE IN THAT AMOUNT. FEMA TOPPED 43 MILLION TO VICTIMS.
ON SEPTEMBER l3TH THE "URBAN LAND INSTITUTE" STUDIED THE DOWNTOWN BUSINESS PROBLEMS. THIS IS A NON-PROFIT EDUCATIONAL AND RESEARCH GROUP BASED IN WASHINGTON D.C. IT HAS 13,000 MEMBERS WHOSE PURPOSE IS TO STUDY LAND USE AND REAL ESTATE TRENDS THROUGHOUT THE WORLD. THEY RECOMMENDED THAT THE MONEY COME FROM THE COMMUNITY DEVELOPMENT BLOCK GRANT FUND. THEY CALLED FOR 17 MILLION FROM THAT SOURCE AND ANOTHER 7 MILLION FROM THE ECONOMIC DEVELOPMENT ADMINISTRATION OF THE U. S. DEPARTMENT OF COMMERCE.
ONCE THEY HAD THE MONEY THE CITY DECIDED TO BUY OUT HOMES THAT WERE PARTIALLY OR COMPLETELY DESTROYED OR THAT FELL IN AREAS NEEDED ID CONSTRUCT A NEW DIKE. THE BUY OUTS WERE DIVIDED INTO THREE PHASES.
FIRST, THE HARDEST HIT AREAS.

SECOND, HOMES LOCATED IN WHAT WAS DETERMINED TO BE IN THE 100 YEAR FLOOD PLAN AND HAD ALSO SUFFERED 50/0 OR MORE DAMAGE.

THIRD, HOMES THAT COULD BE REPAIRED. FOR THIS 315,000 WAS ALLOWED (for such repairs)
PLANS TO PROTECT THE CITY FROM A SIMILAR FLOOD ARE STILL NOT DECIDED. THE TWO MAJOR CHOICES ARE COMPLETE DIVERSION VERSUS CONSTRUCTION OF A SIXTY FOOT DAM AROUND THE CITY. IT WILL BE A TOUGH DECISION AND CERTAINLY A VERY EXPENSIVE ONE.
THE BUY OUT VALUE IS BASED ON ASSESSED VALUE OR ANY APPRAISAL THAT MAY HAVE BEEN MADE AFTER JULY 1, 1994. THERE WERE 292 HOMES IN THE FIRST BUY OUT AND 264 IN THE SECOND. THE HOME BELONGING TO HARRIET'S SISTER AND HER HUSBAND, MARIAN AND BILL JAMES, WAS IN THE SECOND BUY our AND THEY ARE HERE TODAY IN THE AUDIENCE.
THERE ARE MANY THINGS TO CONSIDER IN EVALUATING DAMAGE DONE BY THE FLOOD. NOT THE LEAST IS THE IMPACT ON FARMING. MANY CATTLE WERE FROZEN IN THE LAST BLIZZARD AND MANY DROWNED ALL OF WHICH AFFECTED THE MILK AND MEAT SUPPLY PLANTING OF WHEAT, BARLEY, SUGAR BEETS, OATS AND CORN WAS DELAYED BUT WHAT THE EFFECT ON THE SOIL QUALITY WILL BE IS NOT KNOWN. THE SEPTEMBER 13th EDITION OF THE GRAND FORKS HERALD STATED THAT THE SUGAR BEET CROP WAS DOWN FROM 18.7 TONS PER ACRE THE YEAR BEFORE -- 0 17 TONS PER ACRE IN 1997.
THE AFTER EFFECTS ON THE PEOPLE WHO EXPERIENCED THIS DISASTER IS HARD TO MEASURE. IN EARLY APRIL THE HERALD REPORTED THAT THE NORTHWEST MENTAL HEALTH CENTER IN CROOKSTON, MINNESOTA, TWENTY-FIVE MILES FROM GRAND FORKS, HAD EXPERIENCED A 33% INCREASE IN CHEMICAL DEPENDENCY REFERRALS AND OUT PATIENT MENTAL VISITS INCREASED 25% MEETINGS TO DISCUSS PERSONAL FEELINGS AND CONCERNS WERE PLANNED. ONE SUCH MEETING WAS PLANNED FOR APRIL 19, 1998. THE TITLE IS "AN HONEST PEACE: A CELEBRATION OF HEALING AND THANKSGIVING."
ONE OTHER MEETING BROUGHT OUT THE BEST AND THE WORST. SOME WERE BLAMERS WHO FELT THAT THE CITY OFFICIALS, THE MAYOR AND THOSE WHO TRIED TO ESTIMATE THE ANTICIPATED CREST WERE AT FAULT FOR NOT WARNING THEM MORE ACCURATELY. MOST, HOWEVER, WERE APPLAUDED WHEN THEY THANKED THOSE PEOPLE AND ACCEPTED THAT ERRORS WERE MADE WERE HONEST ONES.
AN ATTEMPT WAS MADE TO DETERMINE THE EFFECT OF THIS DISASTER ON THE POPULATION. EAST GRAND FORKS ANTICIPATED A LOSS OF AT LEAST 20% BUT A SURVEY OF 116 FAMILIES INDICATED THAT THEY PLANNED TO CONTINUE LIVING IN THE CITY EVEN THOUGH 27% HAD LOST THEIR JOBS. IN EARLY MARCH 1998 MAYOR PAT OWENS DROVE OVER THE MAIN BRIDGE TO EAST GRAND FORKS AND LOOKED DOWN INTO THE SWIRLING WATERS AND IT BROUGHT BACK MEMORIES OF LAST YEAR'S FLOOD. FORTUNATELY, THE WATER STOOD AT ONLY 12 FEET ABOVE FLOOD STAGE AT ITS PEAK ON MARCH 4TH.
I AN PROUD TO BE FROM GRAND FORKS BUT FEEL FORTUNATE THAT I MOVED TO CALIFORNIA THUS AVOIDING WHAT MIGHT HAVE BEFALLEN ME.
I DO BELIEVE THOSE HARDY SCANDINAVIANS WILL RECOVER AND REBUILD A BETTER CITY THAN THE ONE I KNEW AS A YOUNGSTER AND IN MY EARLY YEARS IN PRACTICE.
---
BIBLIOGRAPHY
COME HELL AND HIGH WATER. Published by staff of the Grand Forks Herald and Knight Ridder Newspapers, page ll.
Fargo Forum, Jack Zaleski, April 12, 1997, page 5.
Fargo Forum, April 18, 1997 - page 1.
People Magazine, 7/14/97, pages 142 - 143.
Grand Forks Herald, July 3, 1997.
Grand Forks Herald, early June - no date.
Grand Forks Herald, September 13, 1997.
Minneapolis Star Tribune, February 15, 1998.
Grand Forks Herald, Dispatch 1998 - no date.